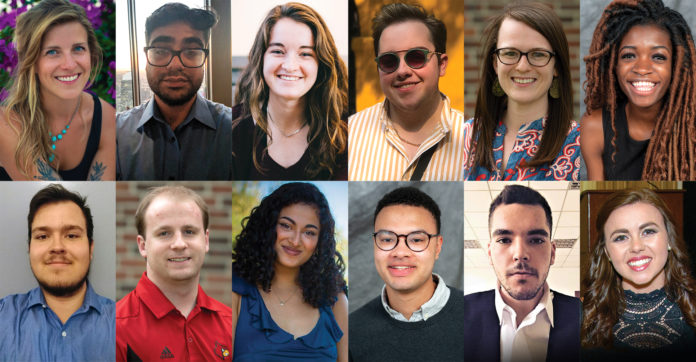 For the sixth time, the University of Louisville is included on the list of U.S. colleges and universities that produced the most 2019-20 Fulbright students. 
UofL had 14 total Fulbright scholars for the 2019-20 academic year. Since 2003, UofL has produced 134 Fulbrights, more than all other Kentucky public institutions combined. 
Each year the U.S. Department of State's Bureau of Educational and Cultural Affairs (ECA) announces the top producing institutions for the Fulbright Program, the U.S. government's flagship international educational exchange program. The Chronicle of Higher Education publishes the lists annually.
"We have an astounding track record as a producer of top scholars and I'm so proud of our incredible students, faculty and staff because they all work together to make this possible," UofL President Neeli Bendapudi said in June. 
The prestigious Fulbright Program was created to increase mutual understanding between the people of the United States and the people of other countries. The primary source of funding for the Fulbright Program is an annual appropriation made by the U.S. Congress to the U.S. Department of State's Bureau of Educational and Cultural Affairs. Over 2,200 U.S. Students and over 900 U.S. college and university faculty and administrators are awarded Fulbright grants annually. In addition, some 4,000 Fulbright Foreign Students and Visiting Scholars come to the United States annually to study, lecture, conduct research, or teach their native language.
More information about UofL's 2019-20 Fulbright awardees is available here and here.
Through the Fulbright program, these scholars are continuing their education in places like Kazakhstan and Taiwan. Five of this year's awardees earned research-focused Fulbright awards, which speaks to UofL's efforts to promote undergraduate research. 
Fellowships coordinator Bethany Smith, who works closely with student and alumni scholarship candidates during and after the application process, said about 30% of UofL students who applied for the 2019 Fulbright received the award—a statistic that has been fairly typical for the past few years.
"That's an impressive statistic," said Smith. "Few institutions can claim such good results and it is indicative of our success in identifying and mentoring potential awardees."