When Felicia Wilkins was 13, she saw an issue of "People" magazine with Christopher and Dana Reeve on the cover. Christopher Reeve had died nine years after suffering a severe spinal cord injury, and his wife, Dana Reeve, also had died recently. Wilkins was concerned for their son, Will, who is close to her age.
"I thought, 'He must be so sad! Both of his parents have died. What could I do to make him feel better?  If I cured spinal cord injuries, that would make him feel better, I bet,'" she recalled.
Thus was born her interest in spinal cord injury rehabilitation. After graduating from the University of Louisville School of Medicine this spring, Wilkins will follow that passion as a physical medicine and rehabilitation resident with Case Western Reserve University in Cleveland.
Before embarking on a path to becoming a physician, however, Wilkins earned an undergraduate degree in her other passion, theater and music, and she spent three years working as an actor and a singer in New York City.
"I'm a really people-oriented person, a love-oriented person. In theater you are trying to get people to feel things. You are bringing people into space that they might not feel comfortable or that they had forgotten about or just helping them understand their own experiences about life," she said. "But when the curtain closes, I don't actually get to see how they experienced it and ask them, 'Do you feel better? Is there anything I can do to make you feel better?' A way to do that would be in medicine."
So, as she was navigating the bustling world of auditions and theater productions, she also was completing science requirements and applying to medical school.
"I had always loved science. I said, I'll give it one shot and if I get in, that's the path I'll take. If I don't, I'll just continue to be an actress and it'll be fine," she said.
"I ended up getting in and I chose Louisville because of the work with spinal cord injury."
Just a week after the wrap of her third New York production, in which she played one of the stepsisters in a production of "Into the Woods," she moved to Louisville to start classes. But the dramatic life transition caused her to wonder if she was making the right choice.
"I had a big identity crisis," she said. "Am I abandoning theater because I'm giving up? Am I truly excited and feel like I'm called to go do this other thing?"
The crisis resolved a few months into her first year of medical school when, with encouragement from her instructor, Jennifer Brueckner Collins, she joined a community theater group. The weekly classes with the Commonwealth Theater Company allowed her to stay connected with music and acting.
"I loved doing it! It was a great addition to my life here in Louisville.," Wilkins said. "It just helped me kind of merge my two personalities. I was able to say, 'OK, I can be both things. I can still consider myself an actress, too.'"
It also helped that she was able to connect with UofL's spinal cord injury researchers, starting with Susan Harkema, who leads UofL's groundbreaking research in epidural stimulation with the Kentucky Spinal Cord Injury Research Center.
"She met with me, she got me plugged in to a research position with Dr. Max Boakye's lab and I met a bunch of people that way," Wilkins said.
"I could not have gone to a more supportive place, a better place for what I'm interested in. I cannot say enough great things about the UofL School of Medicine and Frazier Rehab. They're very inclusive and excited to get students involved."
In her third year at UofL, however, Wilkins faced another personal challenge. She already was frustrated as the pandemic limited students' clinical activities when her father was diagnosed with cancer. COVID restrictions meant she was unable to visit him in the hospital and he died just a few months later.
"It was very, very difficult. I was wondering if I should take a leave of absence, if I should go home to Atlanta," she said.
But she persevered.
"My dad and my mom and all of the faculty and professors here were really integral to me deciding that I could stay, I could finish on time and match on time."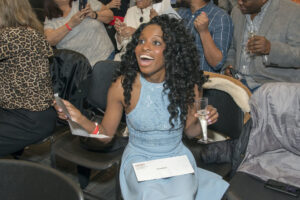 On Match Day this year, with a photo of her dad in hand, she learned she would be spending her four-year residency at Case Western Reserve University and MetroHealth Medical Center in Cleveland, pursuing specialty training in physical medicine and rehabilitation.
"I'm so excited! I'm in PM&R for life now. I'm over the moon," she said.
Wilkins plans to continue participating in music and theater, but as she pursues her goal to cure spinal cord injury, she appreciates the ability to have the more personal connections with the people she will treat as a physician.
"I'm still there with people in dark moments, but I actually get to hold their hand and be with them throughout the whole process."