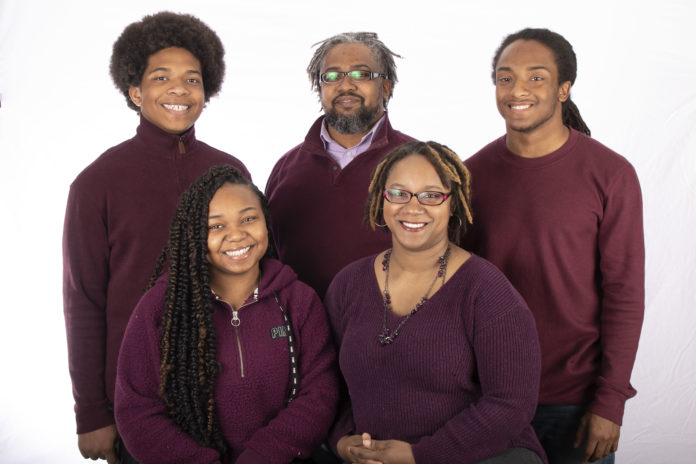 La-Tisha Frazier has looked forward to this year's commencement for quite a while. Not only will the 43-year-old mother of three receive her MD from the UofL School of Medicine, her daughter, Azariah Frazier, will graduate with her bachelor's degree from the UofL College of Arts & Sciences.
Frazier's journey to and through medical school was a long one and anything but smooth. She first graduated from UofL in 1999 with a degree in nursing. Although she was interested in being a physician, the emphasis on biology intimidated her.
"My grandmother was a nurse and we had family members who were in health care," Frazier said. "I always wanted to be an ob/gyn, but I didn't know anyone who had gone to medical school."
After completing her nursing degree, Frazier focused on raising her family and a nearly two-decade nursing career with Norton Healthcare. Working in labor and delivery at Norton, she was involved in many deliveries, and she completed nurse practitioner training in 2004.
About 10 years ago, she was doing health screenings at Elim Baptist Church, where she is a member and in charge of health care ministry, when her vision for her future began to change.
"We were doing blood pressure checks and someone told me that if I were a doctor, she would come see me," Frazier said. "People in the community won't always go to the doctor. I thought, if someone from the community would come see me, I can do something about that."
After ensuring that her family was on board with her goal, Frazier went back to school for prerequisite classes and took the medical college admission test (MCAT) … twice.
"I never was good at taking standardized tests," she said.
Her husband was in engineering school and their three children were in elementary, middle and high school at the time, so Frazier's medical school options were limited to those within easy driving distance of Louisville. On her second application, she received an interview at UofL.
Mentored by Mary Joshua, MEd, the now-retired director of the HSC Office of Diversity and Inclusion, Frazier's final steps to medical school came through the Medical Education Development (MED) program. Through MED, Frazier took selected courses with first-year professional students the year before being admitted to UofL School of Medicine.
"I had a lot of support from Ms. Joshua. I truly appreciate her and the program," Frazier said.
Her enrollment in medical school in 2016 led to big changes for Frazier's family. Her husband took over most of the responsibility for dinner cooking, homework monitoring and child shuttling.
"We also had a lot of support from our extended family, from my mother-in-law, my grandmother, my aunt," Frazier said. "The biggest thing the kids complained about was I was not cooking every night. They were introduced to dinners from a box and Prego jars."
About the same time, Frazier's daughter, Azariah, began her own undergraduate studies at UofL, majoring in psychology. In fact, La-Tisha said everyone in the family was busy pursuing their own dreams and not focused on her extended hours away from home studying medicine.
While she was studying medicine, however, Frazier encountered more challenges.
"My husband had heart surgery during my first year of medical school. In my second year, my grandmother passed. And during STEP 1 study time, I was diagnosed with lupus and had to take time off to begin treatment," Frazier said. "It was rough."
Finally this spring, she was on rotation in the neonatal intensive care unit when the medical students were pulled out of the hospitals and clinical sites due to the COVID-19 pandemic. Her final training was completed online, through videos and text-based learning.
Even Match Day, the day in March when medical students across the United States learn where they will continue their medical education in residency, was held virtually. Rather than gathering as a class to celebrate and open their envelopes together, the class of 2020 celebrated at home, congratulating each other on videoconference.
"Everything is very competitive and there have been changes in the application process. I was very much concerned about matching," she said. "But I matched at my No. 1 choice, the University of Louisville."
Frazier will begin ob/gyn residency at UofL in July.
In addition to her family and Joshua, Frazier said three classmates, with whom she formed a study group, supported her medical school success. The group studied on campus together throughout medical school, each one coaching the others in their specific areas of strength.
"We treated it as a job because we had to be focused. There were different parts of the curriculum that we were good at, so we were teachers to each other. That was a big part of success for all of us," she said.
Jamaal Richie, one of her study partners, also is a parent and shared many of the same challenges Frazier did during medical school.
While disappointed they will not get to experience the spring commencement celebration she had envisioned, Frazier and her daughter are planning a personal ceremony with family and friends later this spring to take photos and celebrate all that they have achieved.
"I was concerned that Azariah would not like to share that day with me," Frazier said. "However, we share the same feelings of being proud of each other and love the fact that we started this journey together and finished together."
Frazier said the biggest lesson of her journey has been to never give up.
"I was told 'no,' I was doubted – I am not good at standardized tests, I am older, I have a family. But I think being able to push through and not give up was part of my journey."