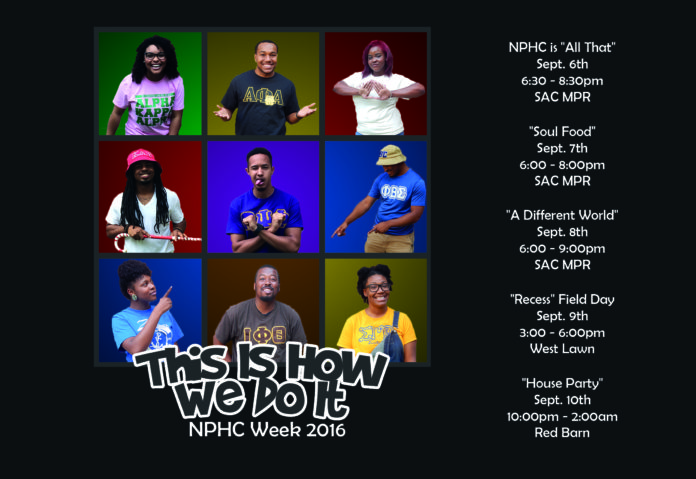 The University of Louisville's National Pan-Hellenic Council (NPHC) is hosting an outreach week through Sept. 10.
The goal of the week is to provide the university community with more information on all of the "Divine 9" NPHC Greek Organizations, including community service and social justice issues.
"The National Pan-Hellenic Council would like to show that we are very diverse and present here on campus through our NPHC week," said Austin Ferrell, UofL NPHC president and member of Phi Beta Sigma Fraternity Inc. "Our key objectives for the week are promoting justice, visibility, social action, service and fun. We as a council would like to welcome everyone in hopes that they will gain knowledge presented at the various events."
Here's the full schedule:
Tuesday, Sept. 6, 6:30 p.m.: "NPHC is 'All That'," Student Activities Center, Multipurpose Room. Learn about each NPHC organizations and get your questions answered from members.
Wednesday, Sept. 7, 6 p.m.: "Soul Food," Student Activities Center, Multipurpose Room. Complete a community service project with NPHC. Attendees should bring toiletry items or $2 for our service project. Attendees will box toiletry items and take them to different locations in Louisville. 
Thursday, Sept. 8, 6 p.m.: "A Different World," Student Activities Center, Multipurpose Room. Learn your rights as student when approached by law enforcement. Network with officials from the University of Louisville and Metro Louisville.
Friday, Sept. 9, 3 p.m.: "'Recess' Field Day," Student Recreation Center, Intramural Field. Have fun with NPHC with field day-style activities.
Saturday, Sept. 10, 10 p.m.: "House Party," Red Barn.