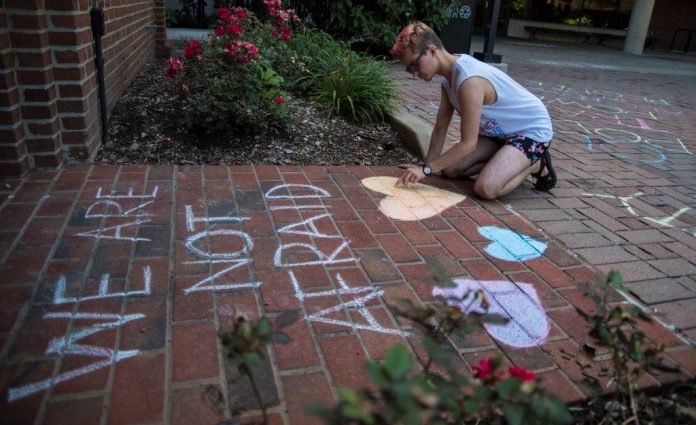 The message written in chalk at the entrance to the University of Louisville's LGBT Center is direct – "WE ARE NOT AFRAID." That message and others neatly scrolled on the sidewalk were the handiwork of UofL student Kaleb Fischbach who was "inspired by our community's reaction to Orlando and wanted to do something to show people in the community that we love and support each other."
The chalk writing comes three months after vandals spray painted hateful messaging on the exterior wall of the center. Brian Buford, director of UofL's LGBT Center, says the Louisville community rallied around LGBT students, faculty and staff then just as it is now in the wake of the terrorist killings in Orlando, which occurred early Sunday morning at a nightclub called Pulse. 
"We feel the impact of hate and ignorance, along with our Muslim friends and communities of color," Buford said. "And we are all partners in making UofL a safe haven of inclusion."
In response to the Orlando shooting, UofL interim Provost Neville Pinto wrote in an email to the campus community, stating, "We are a stronger campus because of the contributions of our LGBT students, faculty and staff….When any member of our family suffers, we all do." 
Buford says the center will be open and offering services to students, faculty, staff and anyone from the Louisville community who want a "safe, welcoming space" to talk with others about the Orlando massacre.
Faculty member Mikakka Overstreet showed up Monday morning to "show support for the students when I realized I was really coming to support myself … I can stop crying because of the wonderful support here."
Graduate student Clay Berry said he was "still in shock" about the Orlando killings but grateful that UofL has "a place of security for LGBT students where you're allowed to be yourself, be upset and feel the way you want to feel."
Students at the LGBT Center are also sending messages of condolences and hope in an oversized card they're sending to the LGBT Center at the University of Central Florida, which is located in Orlando.
UofL's LGBT Center opened in 2007 and is the highest rated college center in the south, according to Campus Pride.