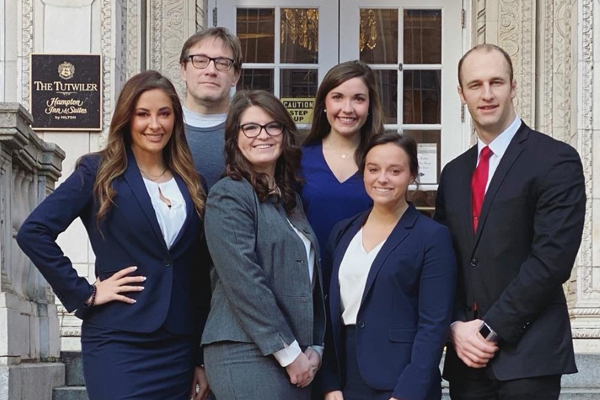 The University of Louisville School of Law's mock trial team is advancing to nationals after winning its regional competition February 7-9.
The winning team, composed of third-year student Connor Cafferty and second-year student Paige Ezell, advanced through six rounds to triumph over teams from Kentucky, Tennessee, Mississippi, Alabama and Florida.
"The experience was a thrill, and to hear our team called as the champion made all the hard work and months of preparation worth it," said Cafferty.
Ezell said the experience has been an important learning opportunity.
"It solidified how passionate I am about litigation and trial advocacy. It makes me feel so much more comfortable with the idea of walking into a courtroom after graduation," she said. 
In April, Cafferty and Ezell will travel to Fort Worth, Texas, to compete in nationals, where they will face 30 teams from across the country.
The other members of the team are Brit McClure and Katie Davidson. Local attorneys Scott Drabenstadt and Madison Shoffner (Class of 2016) served as coaches.
"Seeing the dedication of local attorneys like Madison and Scott give up hundreds of hours of their time reaffirms the value of our law school to the community at large," said Cafferty.