Long before it was renamed for him, U.S. Supreme Court Justice Louis D. Brandeis had already established an enduring bond with the University of Louisville Law School, the fifth oldest U.S. law school in continuous operation. As a native Louisvillian, Brandeis had donated his personal library to the school, chosen its classical portico as his final resting place and enriched the law library's future holdings with original copies of every document filed each term at the United States Supreme Court. It felt inevitable when Don Burnett, dean of the school from 1990-2000, began advocating to change the name of the Law School to honor Justice Brandeis.
Burnett understood the depth of the connection between Justice Brandeis and Louisville. He admired Brandeis' respect for small institutions, his appreciation for federalism, his interdisciplinary insights and his vision of universities as hubs of innovation. He especially respected Brandeis' commitment to pro bono work, saying how Justice Brandeis "really thought that was part of the obligation of lawyers and part of the noble calling of the law as a career."
Burnett gathered broad support throughout the university, the local bench and bar and even the Brandeis family. On Feb. 24, 1997, the UofL Board of Trustees officially changed the name of the school to the Louis D. Brandeis School of Law.
"The law school has a unique advantage in the national landscape of legal education. Prospective students know that Brandeis is a school that carries on both the name and the spirit of a towering figure. That legacy has its home at the University of Louisville," said Burnett.
Over the past 25 years, the school has endeavored to embrace its Brandeis name and legacy.  Beyond his generous donations, Justice Brandeis gifted the philosophy of public service, which has been an integral part of what makes the Brandeis law community so dynamic and engaged, and such a special place to develop the next generation of legal minds.
Students continue the Brandeis tradition of public service through thousands of volunteer hours annually. The Louis D. Brandeis School of Law was among the first five U.S. law schools to require that its graduates complete at least 30 hours of public service. Public service projects during orientation helps new law students appreciate the school's commitment to service.  It sets the standard early, and most Brandeis Law students' service exceeds the prescribed hours.
Central High School partnership
Another way the school honors Justice Brandeis is through the Law and Government Magnet Program at Central High School, which enables law students to provide a variety of enrichment activities, from teaching Central students a street law curriculum to attending law school events. Under the leadership of professors Cedric Powell, Laura Rothstein and Enid Trucio-Haynes, coordinating with Central High Magnet director Joe Gutmann, the partnership is in its 21st year.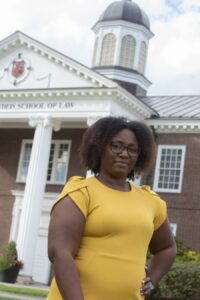 Alumna Mashayla Hays, '15, '18, chose Central High School for this program. Today she is legal counsel for The Lawyering Project, focused on Reproductive Justice. From Central High to UofL and the Brandeis School of Law, Mashayla thrived because of the village behind her. Now she's inspiring future lawyers herself.
"Community service has always been a huge part of my life. It started at Central with opportunities to serve the Louisville community in various ways, and it came full circle when I was able to go and teach at Central – giving back to those that poured into me," Hays said.
The school also is a leader in the study of environmental justice, a discipline focused on the fair treatment of all peoples, regardless of race, ethnicity or income in environmental laws, policies and conditions. Brandeis School of Law's commitment to environmental justice is an essential part of the school's commitment to social justice, public service and high-impact, applied research. The program successfully incorporates experiential and service learning, as well as embracing a broader community, as professors Craig "Tony" Arnold and Shavonnie Carthens work with both law students and law fellows.
These are just a few of many examples of students and faculty honoring Justice Brandeis' legacy, from engaging in legal research to working in our Ackerson Law Clinic.
Looking to the future, Melanie B. Jacobs, dean of the  Brandeis School of Law, looks forward to expanding the school's public service commitment to Louisville and throughout Kentucky with more clinical opportunities, service learning and applied legal research. 
"The best way to honor Justice Brandeis' legacy is to ensure that Brandeis School of Law-educated attorneys are compassionate, dedicated, collaborative and innovative lawyers who seek to improve the lives of their clients and fellow community members," Jacobs said.
Read more news stories on the Brandeis School of Law website.