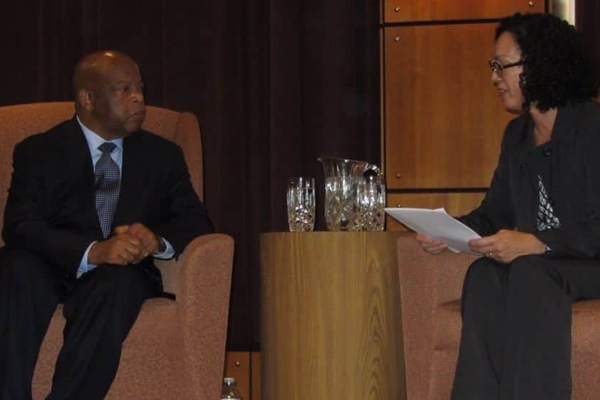 The nation mourned the loss of Representative John Robert Lewis last week. Lewis was a civil rights leader who served in the United States House of Representatives for Georgia's 5th congressional district from 1987 until his death July 17. He was one of the "Big Six" leaders of groups who organized the 1963 March on Washington and also led the Selma to Montgomery marches in 1965, among other efforts that led to the end of racial segregation. 
Representative Lewis was awarded UofL School of Law's highest honor, the Brandeis Medal, in 2000. He again visited campus in 2013 as part of the Kentucky Author Forum. In 2018, his civil rights work was recognized in a Law School Diversity Forum.
The Brandeis Medal honors individuals whose lives reflect Justice Brandeis' commitment to the ideals of individual liberty, concern for the disadvantaged and public service. Representative Lewis was recognized because of his "lifelong commitment to human rights, preservation of personal dignity, and unfailing support of social justice, and one of the most courageous persons in the Civil Rights Movement."  
"On the day of his passing, Representative John Lewis joined in a bipartisan letter to Secretary of Education Betsy DeVos asking her support for grants to support teacher preparation about civics. This letter exemplifies his tireless advocacy for social justice and civil rights. He died only hours later after a long battle with cancer," said Professor Laura Rothstein, co-chair of the Brandeis Medal Committee.
During Representative Lewis's 2013 visit to the University of Louisville for the Kentucky Author Forum about his trilogy graphic novel March, he was interviewed by Rachel Maddow at the event at the Kentucky Center. For his on-campus interview, Louisville Law Professor Enid Trucios-Haynes had the honor of interviewing Congressman Lewis.   
Attendees at that event included four Law and Government Magnet students from Central High School, who were part of the partnership of the Brandeis School of Law with Central High School.  
"Congressman Lewis clearly enjoyed the presence and energy of the young people in the room, knowing that these young people were critical to the work of social justice and civil rights," Rothstein said.