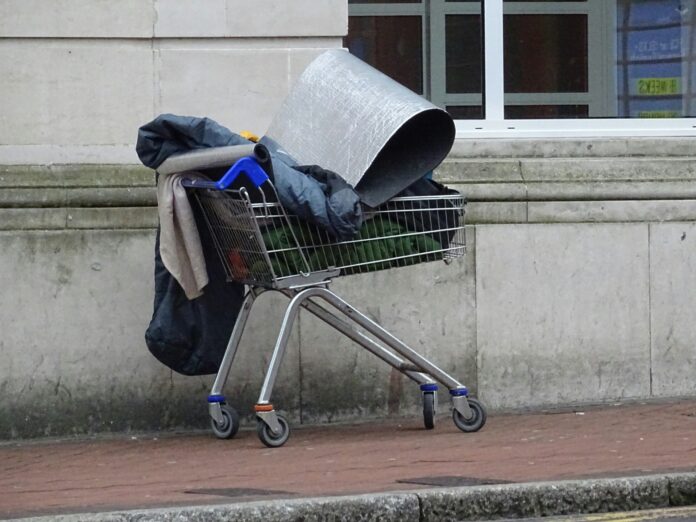 UofL's Kent School of Social Work is partnering with the nonprofit organization Wellspring on a new, five-year federal grant to offer a unified care approach to help homeless people experiencing both mental health and substance use issues to find housing and recovery.
"About 50% of adults with severe mental illness have a co-occurring substance abuse disorder," said Wellspring CEO and Kent alumna Katharine Dobbins.
The goal is to help people become free of homelessness, engage in recovery and improve their quality of life through a community-based approach.
The nearly $2 million project is funded by the U.S. Department of Health and Human Services through its Substance Abuse and Mental Health Services Administration. It is designed to boost specialized training to serve 180 Louisville adults via Wellspring, a behavioral health agency with a 38-year history of providing mental health services.
"Obviously the issue of people having both mental health and physical problems is a major concern in Louisville," said Bibhuti Sar, UofL social work professor and the grant's lead investigator, who pointed to the efforts of Wellspring and other local groups working together to address homelessness. "The Kent School of Social Work and the University of Louisville strongly support the well-being of the community. We welcome the partnership of Wellspring to enhance their efforts and experience to do that work."
Working with other community partners such as the Coalition for the Homeless and Louisville Metro Housing Authority, the project will identify some of Louisville's most vulnerable adults living on the streets with both disorders and will seek to provide them with housing and services designed to stabilize their lives.
"This will be a life-changing program," Dobbins said. "It helps move a person along the path of recovery toward the goals they want to achieve. We will take a harm-reduction approach, but critical life experiences serve as opportunities to help individuals make positive changes."
Participants will have a support team that includes a therapist, case manager, nurse practitioner and a peer support professional. This team, in conjunction with the Kent School, will develop skills in using evidence-based methods that help integrate "trauma-informed" care for participants. UofL will bring in national experts for training in evidence-based interventions. Sar said he hoped the training will occur this summer with services to begin in early fall.
"This grant will help our staff hone and improve their skills in evidence-based practices," Dobbins said.
Those practices include integrated dual disorder treatment, which addresses both problems (mental health and substance use) simultaneously with the same team; motivational interviewing, which guides people toward change; and a "housing first" model, which uses supportive services to help chronically homeless people with serious mental illness and substance use disorders.
The Kent School team includes Martin Hall, an associate professor with experience in researching substance use issues, who will lead the evaluation part of the grant to ascertain the program's effectiveness. Jim Guinn will be the project's daily coordinator, and Sar said the team will hire a research assistant.
"We also want to understand the impact of services on consumers in the sense of improving their functioning and well-being," Sar said.
Partnering organizations also will measure outcomes including how many homeless people get housed and how quickly and whether they maintain housing for a year or more. Other measurements will assess improvement to their quality of life and whether their psychiatric conditions changed.
"Our goal is to get people into independent housing, their own apartments with their own amenities," Dobbins said. "We provide supportive services. We hope to get people into treatment as well, using these evidence-based practices."
Continuing the UofL connections, Dobbins has a Kent social work degree and Wellspring program manager Paul Bliss has been a Kent adjunct faculty member; Sar hopes later to involve Kent students in the work as well.
"It's rewarding to see our graduates making a difference in the community, and the chance to partner with them as alumni is fantastic," Sar said.
Photo provided by publicdomainphotos.net.