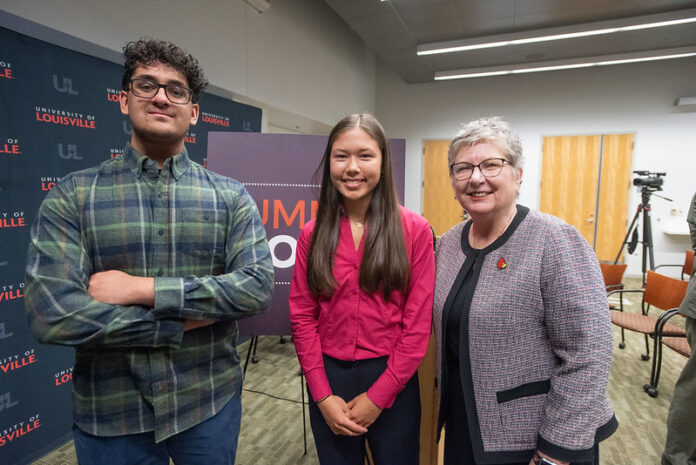 University of Louisville President Kim Schatzel and Louisville Mayor Craig Greenberg joined Paul Costel of JPMorgan Chase, other community leaders and SummerWorks participants to wrap up the 2023 season and highlight the program's expanding relationship with the university.
"This season we had SummerWorks youth doing everything from skilled trades training to technology entrepreneurship and science research," said Mayor Greenberg. "It's exciting to see the collaboration with employers in the private and public sectors, as well as our largest educational institutions JCPS and UofL."
The Louisville Science Pathways program, which is funded by SummerWorks, placed high school students in STEM labs across multiple departments at UofL. These students got hands-on experience assisting professional scientists and faculty in areas such as neurobiology, psychology, computer science, engineering and more. In addition to Louisville Science Pathways, SummerWorks also supported youth working at the Louisville Automation & Robotics Research Institute at the J.B. Speed School of Engineering.
"We are proud to partner with Mayor Greenberg and his SummerWorks program to provide exciting opportunities like the ones at the Louisville Science Pathways and the J.B. Speed School of Engineering. Both of these efforts are exposing a diverse set of students to people, careers and educational pathways that they might otherwise never know about," Schatzel said. "We love that high school students are getting exposed to our beautiful campus, our great faculty and our talented graduate and undergraduate students. We hope to see many of them in a year or two as students at UofL."
SummerWorks participants see higher rates of graduation, college attendance and full-time employment than their peers, according to a 2019 study by the Kentucky Center for Statistics.
"Young people are our next generation of leaders, yet too many, especially from underrepresented communities, don't have access to the skills, network and work experience they need to prepare them for meaningful employment opportunities in the future," said Costel, Kentucky Region Manager for JPMorgan Chase. "Good jobs are the foundation of a strong economy but remain out of reach for too many. Bringing together local government, employers and community partners through summer youth employment programs can help bridge this gap and ensure that more young people are connected with the resources and tools they need to better prepare them for the opportunities of tomorrow."
All Louisville youth ages 16 to 21 (as of June 1) are eligible to enroll in SummerWorks. Applicants who face barriers and come from disadvantaged backgrounds are prioritized in the job-matching process. Once youth register online, they can create or upload a resume, get soft skills training and apply for job opportunities.
SummerWorks also is continuing to sponsor jobs and work-learn experiences at nonprofits and agencies across the community that share the program's commitment to advancing equity.
SummerWorks is operated by YouthBuild Louisville in partnership with KentuckianaWorks, the Louisville region's Workforce Development Board. SummerWorks' core operating funds are approved by the Louisville Metro Council. Supporters of SummerWorks include the James Graham Brown Foundation, the Diaz Family Foundation, JPMorgan Chase, the Jewish Heritage Fund, the Gingko Foundation and others.
To learn more about SummerWorks and how to get involved as a participant, employer or supporter, visit www.summerworks.org.