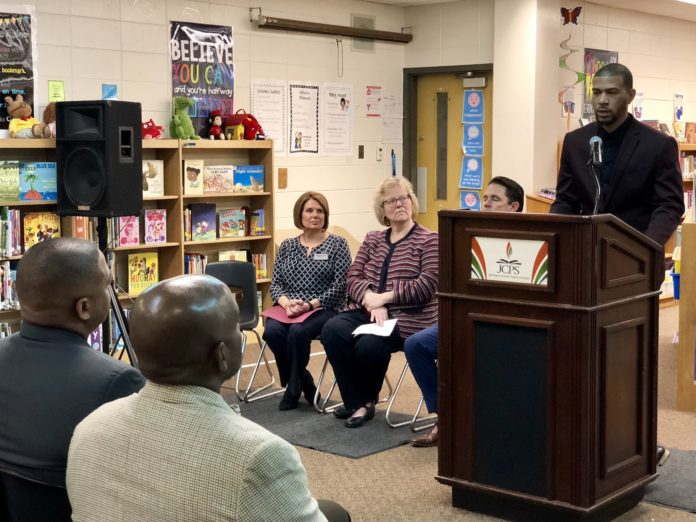 The University of Louisville and the Jefferson County Public Schools system have teamed up to launch the Louisville Teacher Residency program. The objective of the program, the first of its kind in Kentucky, is to increase the pool of diverse, highly-skilled teachers, particularly in low-performing, urban schools. 
Nearly 37% of JCPS students are African-American, yet just over 12% of its full-time teachers are black.
"When students identify with a teacher in their classroom it fosters a sense of belonging, promotes engaging interactions, and improves student outcomes," said JCPS Superintendent Dr. Marty Pollio. "The Louisville Teacher Residency program strives to not just increase the number of minority and other high-needs teachers, but to make sure those teachers have the skills and experience they need to make a positive impact on our students."
The LTR program offers college graduates who did not major in education the opportunity to obtain a master's degree and teaching certification in one year, in exchange for their commitment to teach in a high-needs JCPS school. According to the Courier Journal, the program is modeled after similar programs in Chicago and St. Louis. 
The program kicks off in June, with an inaugural class of 30 residents. Following a Thursday press conference, Pollio told WDRB that the goal is to expand the program to offer 100 slots. This would provide one solution to the district's teacher shortage problem. The CJ reports that JCPS' 155 schools had more than 100 vacant teaching positions midway through this school year.  
Though there are benefits for the school district in bridging the teacher shortage gap, and for UofL students in gaining hands-on experience, Kaarmel Eaves, a third-grade teacher at Semple Elementary, told WDRB that the program should especially be beneficial for her students. 
"Kids when they see somebody that looks like them and has the same life experiences as them, it just matters to them," she said. "I think they relate better, and when you instruct them, they receive the information better." 
During the residency year, participants will spend four days a week in the classroom alongside JCPS master teachers, who will mentor them while the residents engage in hands-on teaching experiences. During the summer and on Fridays, residents will attend classes at UofL, and complete coursework co-designed by JCPS and the university.
Participants will earn $30,000 plus benefits from JCPS during their residency then commit to work for five years in an Accelerated Improvement School (AIS) within JCPS. 
"The University of Louisville is honored to partner with Jefferson County Public Schools to implement the first teacher residency program in the commonwealth," said UofL Provost Beth Boehm. "UofL is committed to preparing high quality educators to meet the district's needs and to improving P-12 student achievement. The Louisville Teacher Residency program is a unique opportunity for UofL and JCPS to diversify the teacher workforce and is an extension of the university's call to celebrate diversity, foster equity and strive for inclusion."
In addition to experience, a salary and benefits, candidates in the program can also receive a boost from Class Act Credit Union, which is committing up to $300,000 over three years for $3,000 scholarships to participants, as well as funding assistance for faculty evaluations and programming.
Individuals interested in applying for the LTR program should visit the JCPS website. Candidates must have a bachelor's degree and at least a 2.75 GPA. Participants need not be a minority to apply, though the district is prioritizing candidates in high-needs areas, including minority representation and math and science teachers.