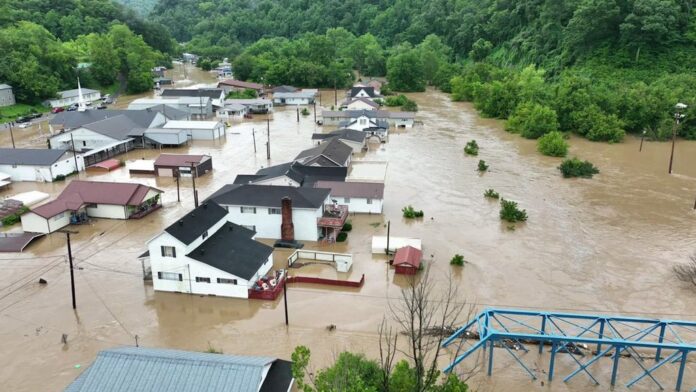 Our families, friends and neighbors in eastern Kentucky need our help. The recent devastating floods have caused significant loss of life and have left many people without homes and without food, water, clothing and other basic necessities.
UofL is coordinating several efforts to aid the residents of eastern Kentucky, and we're asking our Cardinal family to help. The efforts include:
UofL Health is providing $25,000 to the Red Cross for disaster relief and is sending supplies and support to the Mountain Comprehensive Health Corp., which operates nine primary care centers in Appalachia.
The School of Dentistry is assisting the Mountain Comprehensive Care Clinic with treating patients with acute dental emergencies. The Dental School also is working with Delta Dental to send its mobile dental clinic to the area.
The Kent School of Social Work and Family Science's Center for Family and Community Wellbeing is collaborating with Volunteers of America to assemble donations through VOAmid.org/EasternKYFloodRelief and the Recovery Community Center in Manchester.
The School of Medicine's student body is asking for supplies (bottled water, hygiene products, household products, etc.) to be dropped off in the SOM Office of Student Affairs. Additionally, they are working closely with the KY Area Health Education Centers (AHECs) to assist with their "boots on the ground" activities to provide any support that they need.
The Athletic Department is collecting water to be shipped to eastern Kentucky. Gallon jugs are particularly needed. Drop-off will be Thursday, Aug. 4, from 8 a.m. to 8 p.m. at Cardinal Stadium. The Admissions Office already has contributed 200 cases of bottled water.
The men's basketball team will participate in a Red Cross telethon Wednesday evening on WLKY-TV to raise funds for needed supplies. The telethon runs Tuesday through Friday from 5 p.m. to 6 p.m.
Various schools and colleges also are sponsoring smaller drives and offering support to their students. Contact the individual schools for more information.
Additionally, the UofL Comparative Medicine Research Unit (CMRU) is coordinating relief efforts with the Kentucky Veterinary Medical Association (KVMA) targeting family needs for their animals. The CMRU team will be making several trips over the upcoming weeks to deliver needed items to the affected areas in addition to sending licensed veterinarians and veterinary technicians to provide care for the animals and to assist in capture efforts for animals. More information, including items needed, is available here. 
Further, UofL archivist Heather Fox, who works in University Libraries, is assisting several archivists from Kentucky in cleaning and preserving damaged archives at Appalshop, an arts and education center focused on Appalachian culture. The organization's building and materials were badly damaged during recent flooding in eastern Kentucky.
Finally, UofL's Trager Institute connected UofL Health and Mountain Comprehensive Health Corp. and is sending supplies and support to eastern Kentucky. Trager's staff, family and friends also raised over $2,000 to send immediate supplies to eastern Kentucky.
Monetary donations can be sent to the Team Eastern Kentucky Flood Relief Fund. Donations also can be made to the Student Emergency Fund to aid UofL students who are affected by the flooding.
More than 170 UofL students hail from counties severely impacted by the flooding. UofL is making counseling services, emergency housing and other assistance available to these students and their families. Students should contact the Dean of Students Office at (502) 852-5787 or dos@louisville.edu for support. Students who call over the weekend or after hours should call the UofL Police Department at 502-852-6111, and you will be connected to an on-call staff member.