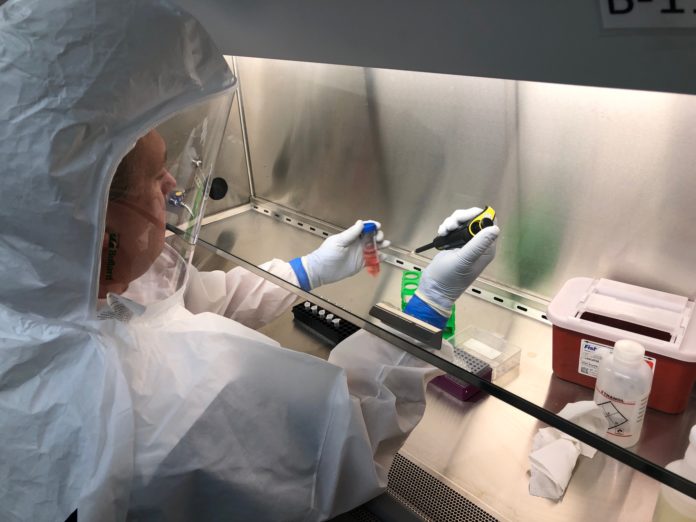 As coronavirus cases continue to spread throughout the commonwealth, the University of Louisville has ramped up its efforts to combat the deadly pandemic.
UofL researchers now are processing test results from 12 hospitals, UofL Campus Health and four outpatient clinics in the Greater Louisville area. As of today, the university had processed 1,797 tests, including 1,032 for Norton Healthcare, 288 for UofL Health and 186 for Jewish Hospital. There have been 204 positive tests.
"We now have the capacity to do up to 1,000 cases per day," said Kevin Gardner, UofL's executive vice president for research and innovation. "We have researchers who have temporarily dropped all of their other duties to devote their time to the fight against COVID-19."
As part of the expanded testing effort, the university also has committed to processing up to 200 cases per day through the drive-up testing being conducted by UofL Health at its site at Brook and Liberty streets in downtown Louisville.
UofL's efforts are producing all test results within 24 hours, according to Gardner, who is reporting the results directly to the Kentucky Cabinet for Health and Family Services, which relays the reports to Gov. Andy Beshear's office on a daily basis. Rapid turnaround allows hospitals to isolate patients and health care providers with COVID-19 and move others out of isolation, saving supplies of personal protective equipment that are critically low in the state and protecting the health care workforce.
By processing the tests and studying the SARS-CoV-2 virus, UofL researchers and the university's Center for Predictive Medicine for Biodefense and Emerging Infectious Diseases are hoping to answer urgent questions about how it is spread, who becomes sick and how the illness progresses. That information is needed to help prevent transmission of COVID-19.
UofL is supporting this research with $500,000 in funding, but additional funds are needed to continue the work over time. Donations specifically for the research can be made at give.louisville.edu/covid19.
UofL also continues to work on long-term approaches to the virus.
Kenneth Palmer, director of UofL's Center for Predictive Medicine, is testing potential treatments, including one developed at UofL in partnership with the National Cancer Institute and the University of Pittsburgh.