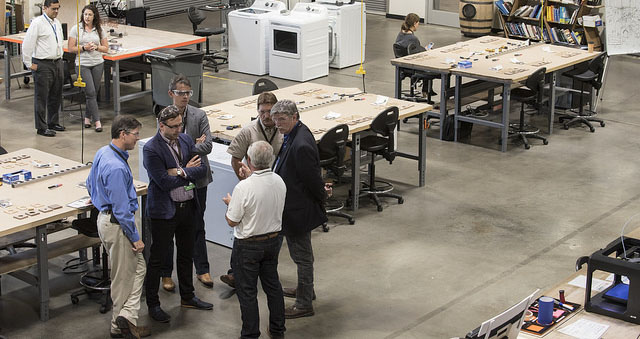 Nearly 20 top executives from some of the world's largest companies visited the Cardiovascular Innovation Institute, Micro/Nano Technology Center, FirstBuild, and the Additive Manufacturing Competency Center this week to learn more about the emerging manufacturing technologies and strategies being developed in Louisville and on UofL's Campuses.
The group was a part of the Innovative Partnership Program (IPP) created through XPRIZE and Singularity University in alliance with Deloitte. According to IPP program director Sean Watson, the goal of the two-day tour is to help senior business executives from leading companies explore the future of manufacturing and product development, as well as discover new ecosystems and partnerships that they can tap into to thrive in the emerging agile manufacturing paradigm. 
"As we looked at the lay of the land in manufacturing, we saw that Louisville was doing some really special things and a lot of it centered around the capabilities of the university," Watson said. "We wanted to expose these companies to an industrial ecosystem outside Silicon Valley – the places you typically think of as centers of innovation in the world – and to introduce them to places doing dynamic things and are emerging as new centers and new 'brain belts'."
While the tour was created for informational and educational purposes, UofL Senior Director of Research Support & Development William A. Metcalf says he is hoping that the exposure will lead to additional public-private partnerships.
"Hopefully, they see some of the exciting things happening here and want to get involved, whether that's research or to co-locate here and hire our students," Metcalf said. "We're not selling anything today, per se, but we're talking about what we do. Hopefully, they find that interesting and want to be a part of it."
More photos from the tour are available online.