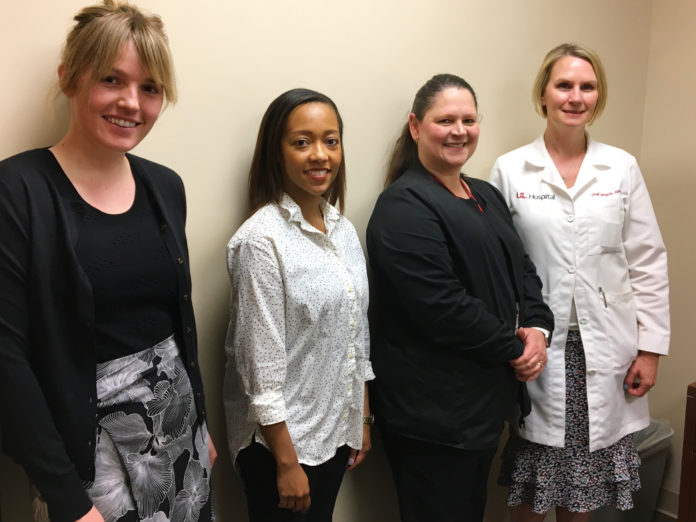 As the only provider of burn wound care services in Kentucky and a larger 250-mile radius inclusive of areas within Indiana and Illinois, the UofL Hospital Burn Center has piloted a telehealth program to reduce barriers for patient follow-up care.
"Travel distance, along with often other serious health conditions, make it difficult for patients to get to a weekly appointment," said Jodi Wojcik-Marshall, MSN, APRN, ANP-BC, manager of the UofL Hospital Department of Advanced Practice Nursing and nurse practitioner in the Burn Center. "We saw a need to reduce the high number of missed appointments by reducing access barriers."
In response to the need, a telehealth burn wound care pilot initiative was developed in collaboration with J'Aime Jennings, PhD, assistant professor and co-director, Center for Health Organization Transformation at the University of Louisville School of Public Health and Information Sciences.
Jennings led the effort to translate the outpatient burn center's in-person standards and protocol into a telehealth format.
The program uses the technology BlueJeans for providers Wojcik-Marshall and Michelle Broers, PT, DPT, CWS, FACCWS, to have a dialogue with patients during telehealth visits. Each patient downloads the free BlueJeans app to their smartphone or device and uses a unique connection number to sign in for each appointment.
"We found both in the literature and in early observations of this pilot benefits not only for patients but also for home health providers and family members who help the patients with their treatment," Jennings said.
Jennings and her team are in process of evaluating patient and provider satisfaction surveys. Next steps include determining adjustments to the program, and how the burn center may expand the initiative to benefit more patients.