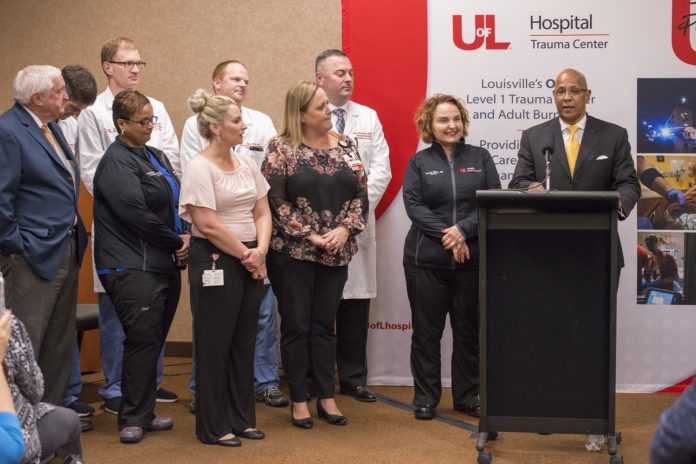 Former gunshot wound patients and anti-violence advocate Christopher 2X visited UofL Hospital to express their gratitude to the nurses and trauma surgeons for saving their lives. In a ceremony on Thursday, Sept. 5, three former patients, 2X and Russell Coleman, United States Attorney for the Western District of Kentucky, presented specially designed awards to the UofL Hospital trauma outreach team and the UofL Hospital trauma surgery team in recognition of life-saving care provided to gunshot wound victims from 2003-2019.
Gunshot wound survivors Sheronda Morris Jasper, Cierra Twyman Miller and Dionte Reed shared their stories and personal words of thanks to the nurses and physicians for the care that allowed each of them, as well as thousands of other victims of violence, to recover from their wounds.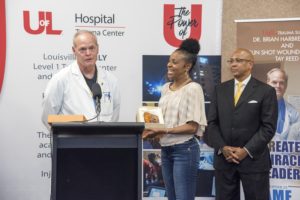 "We appreciate you putting your blessed hands on us. You put us back together piece by piece, hoping for us to have a better life," Jasper said. "You put your life aside to make sure our wounds are healed."
Kimberly Denzik, MSN, RN, trauma program manager, accepted the "Healing & Compassion Award" on behalf of the trauma outreach team. Brian Harbrecht, MD, UofL Hospital trauma medical director, accepted the "Endless Stairway Award" on behalf of the trauma surgeons.
Christopher 2X Game Changers, a foundation established by 2X to reduce crime through educational opportunities, had the awards specially designed for the UofL teams.
"We have witnessed the power of the healing hands of the UofL trauma surgeons and the caring hearts of the trauma outreach team," 2X said. "These people have helped save thousands of lives that could have been lost to violence in Metro Louisville and beyond."
Check out video from the event: