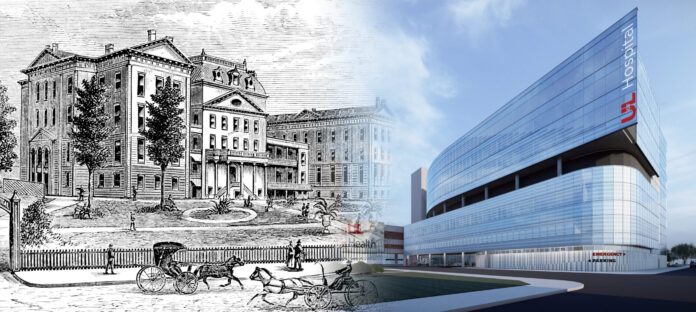 Kentucky's first hospital, UofL Health – UofL Hospital, is celebrating 200 years of compassionate care, medical innovation and serving the underserved.
"UofL Hospital transformed heath care in Louisville, the state and the region," said Tom Miller, UofL Health CEO. "We honor the compassionate clinicians and civic leaders who founded this hospital to take care of those most in need, and we celebrate all those who followed, including the more than 13,000 who proudly continue the mission today."
The first patients were admitted in 1823 to the facility then known as Louisville Marine Hospital at the corner of Preston and Chestnut Streets, just a few blocks from the current hospital location. The original mission was to care for ill and injured riverboat crew members abandoned at Louisville's busy wharf. Patients were often immigrants with a wide variety of backgrounds, ethnicities and countries of origin. Hospital care was extended to include others that could not be treated in their homes, which was common practice at the time.
"Two hundred years in the heart of Louisville's downtown community represents generations of families from every neighborhood impacted by UofL Hospital," said Ken Marshall, UofL Health chief operating officer. "I've been honored to witness the last 28 years. I've seen innovative medicine result in medical miracles. But, even more importantly, I've seen the passion our nurses, physicians and allied health workers bring to their patients every day."
Today, UofL Hospital is the region's only Level I Trauma Center for adults, additionally recognized for stroke, burn, cancer care and nursing excellence. The hospital is part of Kentucky's largest academic health system with eight hospitals, four medical centers, Brown Cancer Center, Eye Institute, nearly 200 physician practice locations and more than 1,000 providers.
"Health care is a human right, and for 200 years, UofL Hospital has been making sure our people have access to the best care possible," Gov. Andy Beshear said. "They've been there for folks in Louisville and across the commonwealth, providing world-class trauma care, cutting-edge research and helping us get through a once-in-a-century global pandemic. They've provided lifesaving care for heroes like Officer Nick Wilt, who ran toward danger to save lives. Congratulations to all the dedicated doctors, nurses and staff at UofL Health on this incredible milestone."
"Louisville's growth into one of the top 30 cities in America is due in large part to the success of our health care system, and that includes the incredible work that happens at UofL Hospital every day," said Mayor Craig Greenberg. "We are grateful for the lifesaving care, the community partnerships and the overall excellence that has come from UofL Hospital and its team for the past 200 years."
Among its most significant contributions to medical history, is the nation's birthplace for trauma care. In 1911, the hospital, then known as Louisville City Hospital, formed an accident service, specifically to care for patients with injuries and fractures. It was the first of its kind in the nation and contributed to the present-day success of emergency departments and trauma centers across the country.
"For decades, UofL Hospital has served as an excellent training ground for aspiring doctors, nurses and allied health professionals enrolled at the University of Louisville," said UofL President Kim Schatzel. "Here, our residents and students have become well-versed in the kind of compassionate care for which UofL Hospital has been known for generations throughout the region. All of us at UofL join in the salute to UofL Hospital as it marks 200 years of tremendous care and treatment, lifesaving research and an unwavering presence in downtown Louisville."
"The trauma team at UofL Hospital is saving lives today that would have been unthinkable by our predecessors," said Dr. Jason Smith, UofL Health chief medical officer. "But we stand on the shoulders of those visionary leaders who first assembled the expertise to treat emergency cases and the made a commitment to provide every patient with the very best in care."
As the mission continued to grow, so did the need for more beds. By 1914, the new hospital was ready with a state-of-the-art emergency room and more than 400 beds. It also included 44 bassinets, of which Louisville's own Muhammad Ali was undoubtedly the most famous occupant, born at Louisville General Hospital in 1942. The latest hospital name change came around the same time when the hospital extended its primary patient area beyond the city limits to include all of Jefferson County.
To better reflect and serve its patient population, the hospital staff experienced milestone growth in the 1950s. Drs. Orville Ballard and Grace James joined the medical staff as the first Black physicians, and Flora Ponder started as one of the first Black registered nursing students.
"Elevating the importance of diversity, for both creating an inclusive team and improving patient care, began decades ago," said Shari Kretzschmer, UofL Health chief nursing officer. "It is one of the many reasons UofL Hospital is now recognized among the top 10% of hospitals across the country to achieve Magnet status for nursing excellence."
The current hospital, opened in 1983, is undergoing a $182 million expansion to increase the hospital's operating capacity and facilitate a phased modernization to include all private beds. When complete, UofL Hospital will offer all private rooms, expand the operating room capacity and add a 24-bed observation unit. The first phases of the project are expected to open in early 2025.
UofL Hospital anchors the east side of UofL Health's downtown Academic Medical Center and a partner in the Louisville Medical & Education District (LOUMED). More than 1.5 million patients rely on UofL Health for medical care, with patients from each of Kentucky's 120 counties and southern Indiana.