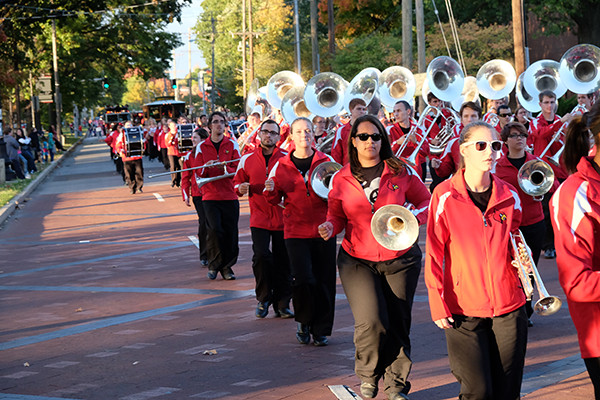 UofL's 2015 Homecoming Week promises to be a colorful one.
Marching during last year's Homecoming Parade
New this year, the Alumni Association's annual homecoming celebration will feature a campus Color Rally with festivities, music and Cardinal colors at 9 a.m., Oct. 24. Participants will wind through a 2.7-mile route, getting doused with clouds of red, black and white, as they go. Early registration is encouraged.
The Homecoming Week parade tradition will continue at UofL as well after making a return last year from a 15-year hiatus. The Oct. 23 parade, which starts at 6 p.m. at Cardinal Boulevard and Third Street near Cardinal Towne, will proceed down Third Street and end at Eastern Parkway. Parade goers will see the UofL Marching Band, Cardinal Bird mascots, Greek organization floats, spirit squads, homecoming court participants and more, all celebrating the official "Everyday is Game Day" theme. Organizations and businesses are encouraged to participate at no charge but must register by Oct. 9.
Homecoming also coincides with UofL Sustainability Week this year, a week of events meant to raise awareness for responsible environmental, social and economic stewardship.
Homecoming week officially kicks off Oct. 18. Other highlights include:
Oct. 18: University of Louisville Golf Club Homecoming Open House, 5-7 p.m., 401 Champions Way, Simpsonville. Complimentary hors d'oeuvres and discounts on merchandise in the Pro Shop. Early registration is recommended.
Oct. 22: 33rdAlumni Awards, 6 p.m. Louisville Marriott Downtown, 280 W. Jefferson. RSVP by Oct. 16.
Oct. 24: Color Rally, 9 a.m., Belknap Campus. Early registration is encouraged.  Louisville Alumni Traveling Tailgate, three hours before kickoff. UofL Alumni golf cart visits tailgates at Papa John's Cardinal Stadium with free giveaways and photo opportunities before UofL football game against Boston College.
Limited-edition Homecoming t-shirts are also available for $15 or 2 for $25 at the University Club, 200 E. Brandeis. For a list of all homecoming events see UofL Homecoming 2015 or contact Elise Buck at Elise.Buck@louisville.edu or 502-852-0750.