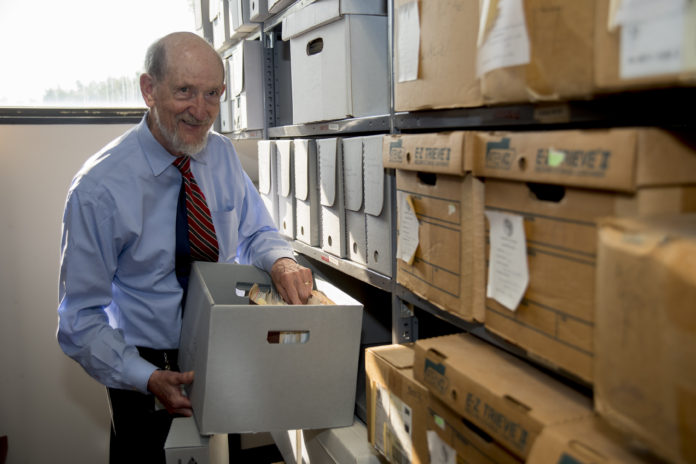 Louisville's beloved historian is at it again.
Dr. Tom Owen, archivist in University Libraries for 44 years, has found yet another way to get folks engaged in the city's past.
This summer, Owen unveiled "Hometown Louisville with Tom Owen," a new YouTube channel featuring segments on local history. In each short episode, he recounts a bygone tale, often uncovering new information using primary sources and research tools found in UofL's Archives & Special Collections.
He promises a new segment each month.
In the first video, Owen uncovers a 1960s mystery building near Breckinridge and Hancock streets, while telling the larger story of urban renewal in Louisville. In the second installment, he spins the tumultuous tale of an office building at Chestnut and Liberty where working women and children were swept into a heartbreaking labor strike.
"It's a great story," he said, with his characteristic enthusiasm.
Owen said the project is an extension of the kind of work he's done throughout his career.
"Very early on I stumbled into telling pieces of history, episodic stories, blessed with a notion that for something to be important or a story to be interesting, George Washington did not have to have slept there," he said. "There's a story under every rock."
Owen's inimitable charm and knack for storytelling has made him a favorite in local media through the years. He's done a local history series for WHAS, KET and Louisville Public Media. Owen, who is a former Louisville Metro Council member, is also known for his walking history tours of downtown neighborhoods.
All of his work is about using stories to reach people and connect them with their past, he says, which influences the present. Now, he's using the medium of the moment to do it. YouTube, after all, is cheap, easy and immediate.   
"I hope everyone enjoys it as much as I do," he said.