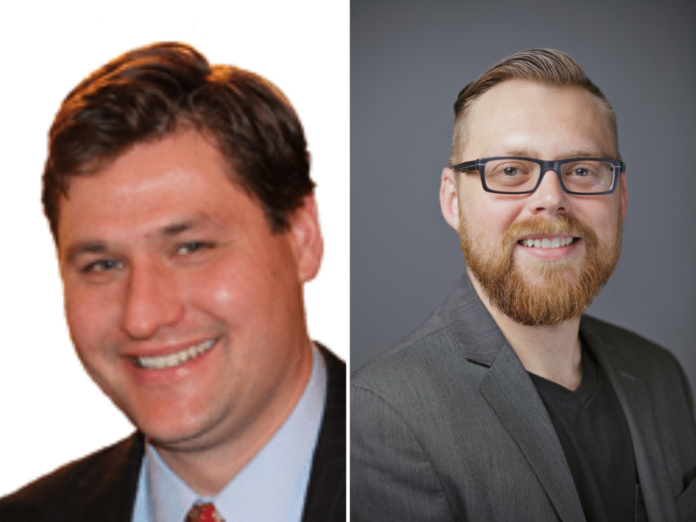 The University of Louisville has hired two seasoned tech startup founders, Bill Dawson and Chris Bailey, to help guide research-backed innovations to market.
Both will serve as entrepreneurs in residence, or EIRs, through the UofL Office of Research and Innovation. In this role, they will work with inventors to connect UofL technologies to industry and startups.
Dawson has extensive experience in healthcare and biotech, both as an executive and entrepreneur. He founded Renew Recovery, a drug addiction treatment facility offering structured intensive outpatient treatment for those suffering from substance abuse disorders. The company was acquired by Brightview Health in 2020.
"UofL has a long history of developing and launching health-related technologies and companies," Dawson said. "I'm looking forward to helping further that momentum and innovations that can improve the way we prevent, diagnose and treat disease."
Bailey is a UofL alum who cut his teeth as a tech and manufacturing founder, launching companies like Revio, a powersports electronics, and Lucid Customs, a producer of induction heating equipment. Lucid was acquired by Dynavap, LLC in 2020. 
"As a proud Cardinal, I'm excited to work with researchers and the Office of Research and Innovation to get this cutting-edge tech to market," he said.
Dawson and Bailey join a class of EIRs that currently includes seasoned founders Alice Shade (healthcare), Tendai Charasika (software) and Josh Nickols (biotech). Nickols joined as part of the first round of EIRs hired in April 2019, followed by Shade in 2020 and Charasika in 2021.
The EIR program is led by the Office of Research and Innovation's UofL New Ventures team, which focuses on launching startups around research-born tech. The EIR program is in partnership with Amplify, an organization working to grow Louisville's entrepreneurship ecosystem, with funding from the Kentucky Cabinet for Economic Development.
"We're very excited to have Bill and Chris join us as EIRs, and to benefit from their knowledge and experience as founders," said Will Metcalf, a UofL associate vice president for research and innovation. "This is such a strong team with broad expertise, and I can't wait to work with them to further UofL-born innovations and startups."