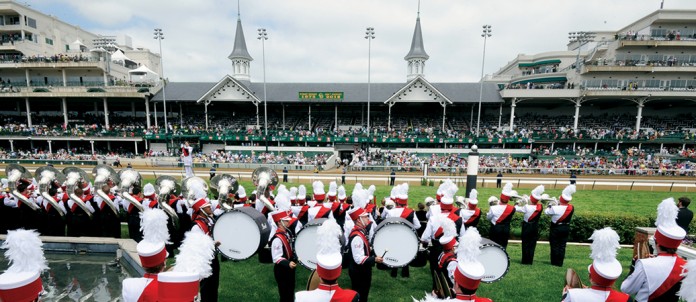 There's nothing quite like spring in the Bluegrass State. In Louisville, the season is ushered in with three weeks' worth of pomp and circumstance in preparation for the 'Most Exciting 2 Minutes in Sports' – the Kentucky Derby. Perhaps by sheer proximity – the Belknap campus is less than 1.5 miles from Churchill Downs – the University of Louisville has a strong presence in many of the Kentucky Derby Festival's events. "It's positive in so many ways for UofL to be associated with one of the premiere sporting events in the world," said Daniel Hall, VP for the Office of Community Engagement. That association began April 23 with the KDF's traditional kickoff event, Thunder Over Louisville, which featured a soundtrack with the UofL Collegiate Chorale. And, as is tradition, the UofL Cardinal Marching Band will play "My Old Kentucky Home" at Churchill Downs May 7 for the 142nd running of the Kentucky Derby. The ensemble has been the "Official Band of the Kentucky Derby" since 1936. Also, for the eighth year, UofL medical students running the Kentucky Derby Festival Marathon and miniMarathon on April 30 will present their race medals to their running "buddies" from the UofL Division of Pediatric Hematology/Oncology in a ceremony recognizing the kids' fight against cancer and blood diseases. The ceremony will be held at 3 p.m. at Kosair Charities Clinical & Translational Research Building lobby.
Though Medals4Mettle (M4M) is an international organization, the UofL School of Medicine M4M program is unique in that the students have the opportunity to meet with their buddies prior to the race and personally present their medals to them after running. This year, 87 medical students will participate. On the Thursday prior to Derby each year, the Kentucky Cancer Program at UofL hosts a Cancer Survivors Celebration at the Kosair Charities Clinical & Translational Research Building. After the celebration, survivors walk to Broadway together to attend the annual Pegasus Parade. Here are some highlights from last year's event, including comments from UofL President James Ramsey.
This year, UofL basketball players Damion Lee and Trey Lewis, both graduate transfers who played for the Cardinals this season, will serve as honorary grand marshals for the annual Pegasus Parade, which marches down Broadway on May 5 beginning at 5 p.m. The parade in past has included UofL-affiliated grand marshals such as coach Rick Pitino, the 2013 Men's and Women's basketball teams, and NFL quarterback Teddy Bridgewater, a former UofL quarterback.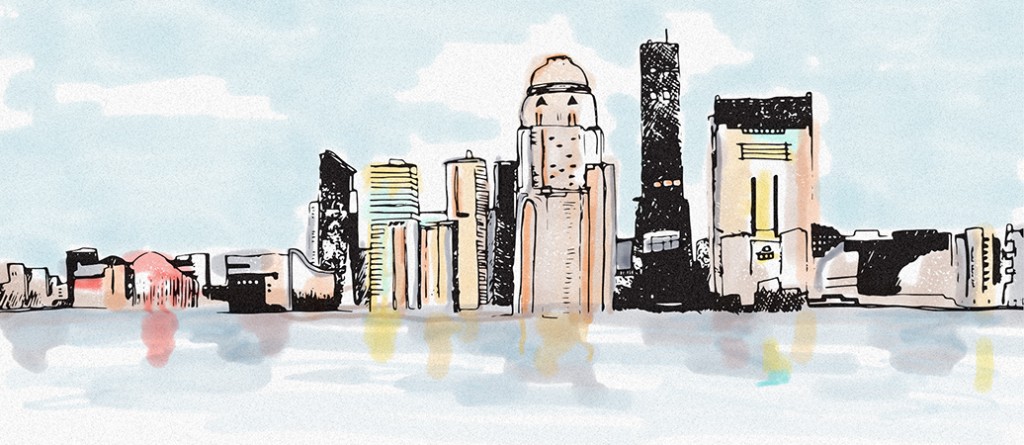 Also this year, the 2016 Kentucky Derby Queen, Madison Kristine Orman, is a junior at UofL majoring in Business Finance. She is joined on the Royal Court by another UofL student: Stephanie Dooper, a senior majoring in Political Science and Liberal Studies.
UofL even houses those who protect the revelers during the week's events. Julie Weber, director of campus housing, said about 50 Kentucky State Police officers will stay in Unitas Hall during the long weekend. In the past, members of the National Guard have also used campus accommodations. New this year, about 20 employees from NBC Sports will be staying at the Arch Apartments, one of UofL's affiliates. "They were just trying to find something close and affordable for their large crew who are working 16 to 17 hours a day," she said. "For state agencies or other service-type organizations, we're happy to do it. It's not a big money maker for us, we're just doing our part to support the Derby."
Other Derby ties
Some other Derby-esque traditions at UofL include a Derby Lecture Series hosted by the Chemistry Graduate Student Association. This year's lecture features Alan Heeger, a Nobel Prize winner in 2000, presenting two lectures – one scientifically technical lecture May 9, and one geared toward a general audience on May 10.
The Department of Educational Leadership, Evaluation and Organizational Development will host a Derby Party May 2 from 11:30 a.m. to 1 p.m. in the Mary Bingham Room in the University Club. It includes a contest for best hat and Derby attire.
Finally, it wouldn't be the Derby without a party, and Cardinal alums from San Francisco to Philadelphia take care of that. A complete list of UofL Alumni chapters hosting Derby parties is available online.