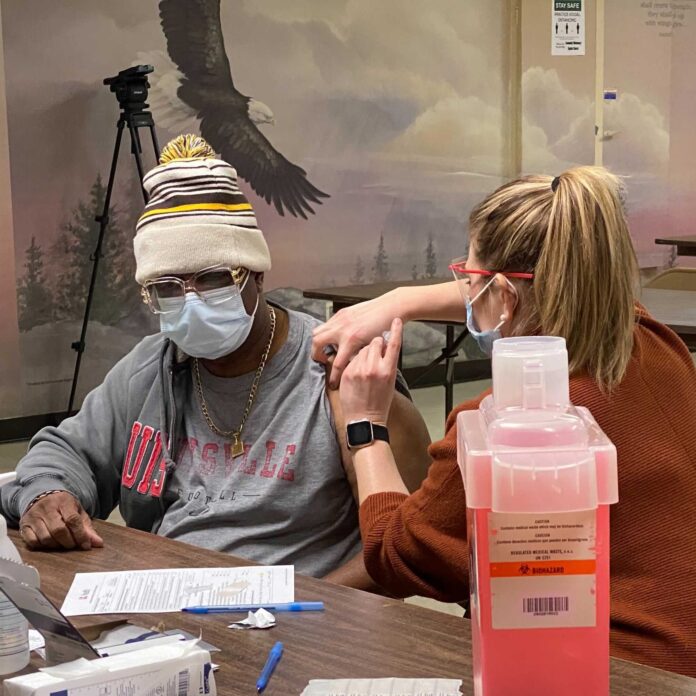 Currently, a little over 12% of the American population has received a COVID-19 vaccination.
That number drops materially for Black Americans. In Kentucky, for example, only 4.3% of the Black community has been vaccinated.
Of those that have already been vaccinated against COVID-19 in Jefferson County specifically, 11% are Black and 79% are white, which compares to the county's baseline population of 20% Black and 73% white.
UofL Health is trying to bridge this disparity, setting up popup vaccination clinics in West Louisville, South Louisville and parts of Metro Louisville. Its initial clinic opened last week at Community Missionary Baptist Church in Louisville's Newburg neighborhood, Spectrum News reports.
It opened another clinic this week at Kingdom Fellowship Church off East Broadway. Pastor Timothy Findley told WHAS11 they were hoping to get 100 people signed up, but the number so far has exceeded 800.  
There is a history of distrust toward vaccinations within the Black community, dating back to the Tuskegee Syphilis Experiment in the 1930s, when Black men were deceived and treatment was withheld. Other historical events, such as the unwanted sterilization of African American women, have made some Black Americans distrustful of the COVID-19 vaccine, as Kentucky Nurses Association CEO Delanor Manson told WHAS 11 in December.
However, distrust is not the biggest hindrance this time around. Findley told WHAS 11 that it is more about access than apprehension.
UofL Health's efforts are critical to address not only those access gaps, but also to help people who are disproportionately affected by the pandemic. Black Americans are three times more likely than whites to become infected with COVID-19. Further, across all age brackets, the COVID-19 death rate is also higher for Black people than it is for white people. 
"If you look across those communities, they've suffered a significant amount of disease burden from COVID-19 and we need to have the vaccine's deployment match where the disease is," UofL Health Chief Medical Officer Dr. Jason Smith told WHAS11.
Findley told WDRB that he has overseen triple the amount of funerals in 2020 than he's ever done.
"It's been absolutely heartbreaking. And this [popup clinic] is just something I find – it's a no-brainer – it has to happen," he said.
"I think when we look at the numbers and how COVID-19 has disproportionately affected Black and Brown communities, I think that these kinds of events, these types of pop-up vaccination sites, are absolutely critical to us saving lives in areas and in neighborhoods in our city that are feeling left out and are seeing so many of our loved ones die," Findley told Spectrum News.
UofL Health has also created a Q&A video for churches addressing some of the most common questions about the vaccine.
UofL Health is working with 20 churches to create such clinics and plans to continue them through the summer.
Photo courtesy of UofL Health Facebook page.