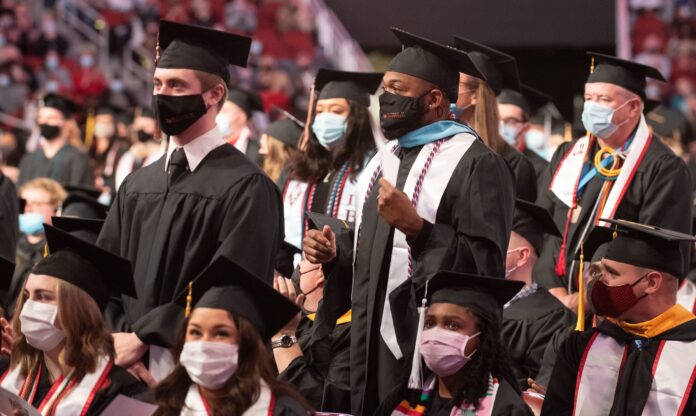 An investment by UofL Health puts the dream of a college education within reach for more than 8,500 people. UofL Health employees and their dependents can now access free undergraduate tuition at UofL. The free tuition benefit, fully funded by UofL Health, is an enhancement to the competitive benefits package offered to all benefit-eligible UofL Health employees.
"UofL Health is funding free tuition as a commitment to our team, their families and the entire community," said Tom Miller, UofL Health CEO. "Funding higher education can be stressful on a family, but UofL Health's full-tuition benefit creates an equal educational opportunity for each one of our employees and their dependents. Imagine what's possible with your college degree, and UofL Health will help you make it a reality."
An estimated 8,500 UofL Health employees, plus their dependents, are now eligible for the free tuition benefit. New hires become eligible immediately. The benefit is available to full- and part-time employees and covers in-state tuition for all undergraduate programs at UofL, beginning with the fall 2022 semester.
"I applaud UofL Health for recognizing the importance of investing in education," said UofL Interim President Lori Gonzalez. "With a diploma from UofL, the learning and earning potential increases for all UofL Health employees. And by including their dependents, this tuition benefit strengthens our workforce and economy for the whole community and the Commonwealth."
The free tuition program is a partnership between the University of Louisville and UofL Health. With the commitment from the university for a group discount, UofL Health is fully funding the tuition. All employees, in .5 FTE positions and up, are eligible. Family members are those defined by the benefit plan including spouses, domestic partners and children up to age 26. Any tuition paid by UofL Health is subject to taxes for the eligible employee.
"This is a game changer," said UofL Health clinical nutrition manager Jennifer Florence. "My son is a freshman at UofL this year. We are pulling together resources to pay his tuition this year, but next year's finances now look a whole lot better."
"I started at UofL Hospital when I was 16, still in high school," said Josh Toomer, UofL Health Workforce Development Coordinator. "I worked my way through UofL to earn my degree and I now help coordinate internships and shadow experiences for others. This new tuition benefit means more opportunity for those students, my coworkers and all of our families."