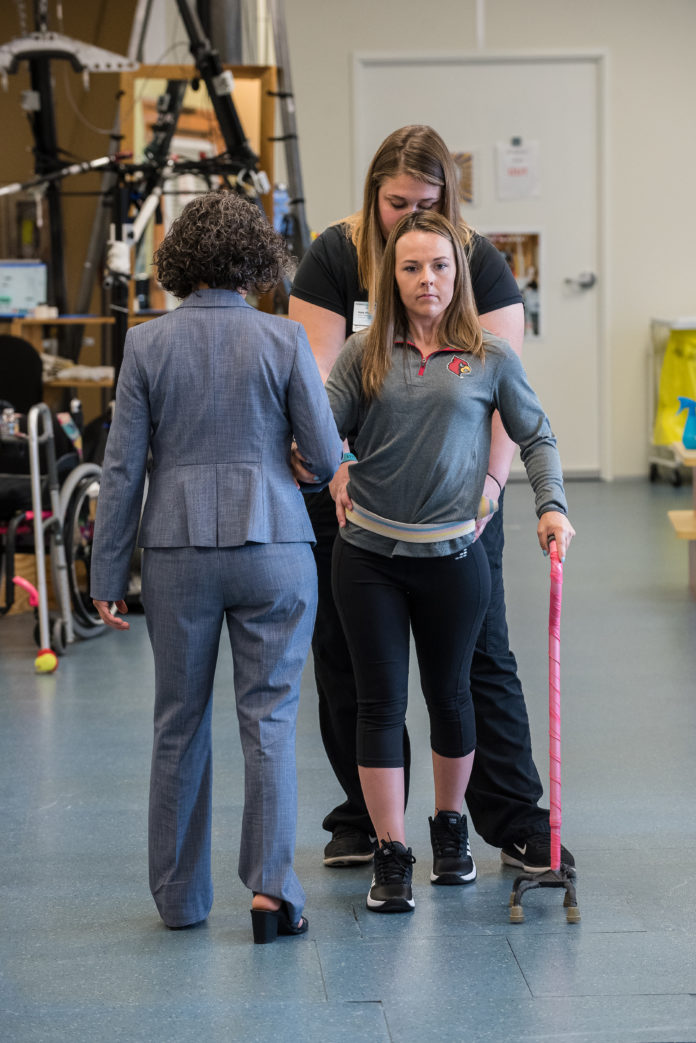 UofL Health – Frazier Rehabilitation Institute, a regional leader in rehab care, recently celebrated 65 years. But the evolution of the groundbreaking facility began decades before.
In the late 1920s, Amelia Brown was en route to a University of Kentucky football game when she was involved in a car accident that resulted in serious injuries, including a crushed pelvis, that would affect her for the rest of her life. But as fate would have it, the accident also introduced her to her future husband, Dr. Harry Frazier, who served as her attending physician.
Throughout the next 20 years, Amelia spent significant time traveling between Louisville and The Rusk Institute for Rehabilitation in New York City. Since Louisville had no physical rehab facilities available, she was inspired to create a physical rehabilitation center so that others would not be burdened by the stress of travel during recovery. She began a grassroots effort to create such a center and in 1954, the Louisville Rehabilitation Center was opened in a portion of the basement of Louisville General Hospital. 
In 1965, a freestanding hospital opened in its current location on Abraham Flexner Way, and in 1984 was renamed the Amelia Brown Frazier Rehabilitation Center in recognition of her leadership in the organization.
"My grandmother didn't create the rehabilitation center as a monument to herself, but rather out of her own experiences with rehabilitative care," said Sandra Frazier, granddaughter of Amelia Brown Frazier. "I have no doubt she would be amazed at how the Rehab Institute has grown and evolved over 65 years."
While Frazier has seen success in many areas of rehabilitation, its focus on brain and spinal cord injury rehabilitation has resulted in life-changing results for patients and their families. In 2010, it opened the Michael Brent Resource Center for spinal cord patients and their families, and in 2011 was selected by the National Institute on Disability and Rehabilitation Research as a Spinal Cord Injury Model System. In 2013, Frazier introduced the EMERGE Brain Injury program, a groundbreaking diagnostic tool designed to diagnose and treat patients with low levels of consciousness.
Integral to this ongoing innovation is the decades-long partnership with University of Louisville and its Medicine, Nursing, Allied Health, and Speed Engineering departments, which was further solidified earlier this year when UofL purchased KentuckyOne Health, including Frazier Rehab. This partnership has allowed for countless innovations, including a pediatric treadmill introduced just this year, which is designed to help children with spinal cord injuries recover the ability to sit, stand, or even walk. 
"Frazier Rehab has had the privilege of improving the quality of life of thousands of patients throughout its rich history, and the innovations developed here and implemented at other facilities extend that ripple of impact even further," said Cathy Spalding, chief administration officer of Frazier Rehab Institute. "We could not be more grateful for our continued and ever-strengthening relationship with University of Louisville, which allows us to look forward to many more years of changing lives."