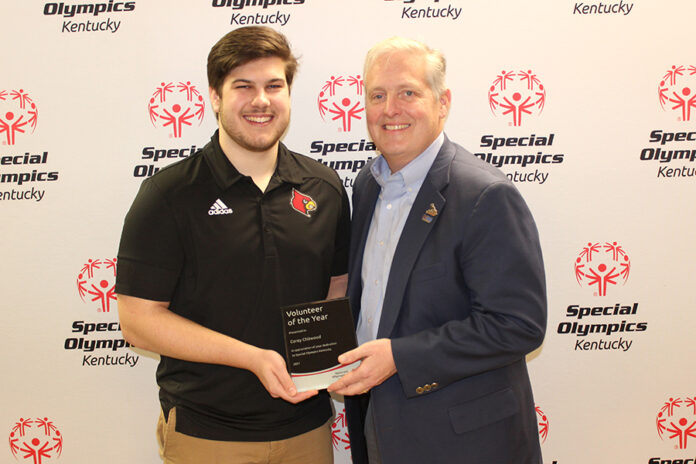 University of Louisville graduate student and Louisville native Corey Chitwood was recently named the 2021 Special Olympics Kentucky Volunteer of the Year. The award is presented annually to the volunteer who most exemplifies the Spirit of Special Olympics. 
Chitwood began his work with Special Olympics five years ago as a UofL student through the organization's Unified Collegiate program, participating in Unified sports activities on campus. Since then, his work with Special Olympics has continued to expand.
While in-person activities were not possible, Chitwood helped organize virtual activities to help keep athletes involved. Earlier this year, Chitwood competed with athlete Caitlin Roy in the Global Special Olympics Unified Esports event, Gaming for Inclusion. Even while completing an internship at Cincinnati's Children's Hospital, Chitwood remained involved, commuting back to Louisville one night a week for Unified Basketball events because he knew our athletes were depending on him.
In addition to Unified sports, Chitwood has helped provide health screenings at MedFest, participated in the Polar Plunge and regularly recruits family and friends to join him as volunteers at events. Chitwood completed his Master's Degree in Bioengineering at UofL in December and plans to attend medical school. 
In presenting his award, SOKY Director of Unified Champion Schools Karen Michalak-Parsley said, "(Chitwood) has become a friend and Unified partner to many athletes, a trusted volunteer and someone all of Special Olympics Kentucky can depend on."