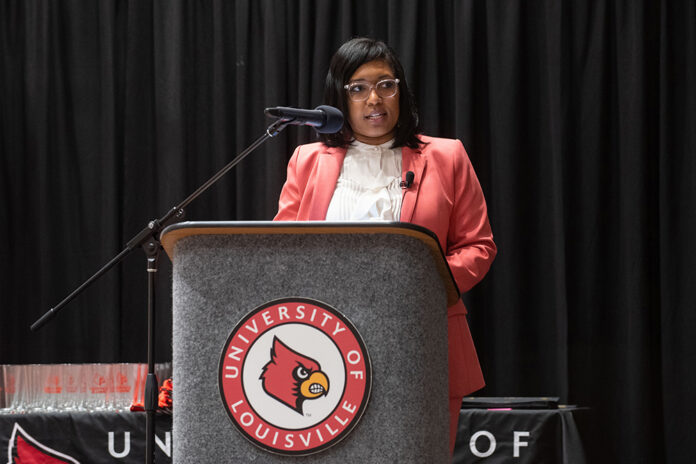 The 5th annual Celebration of Excellence in Graduate Diversity was held May 10 in the Student Activities Center, spotlighting the achievements of eight doctoral graduates, four students who reached doctoral candidacy and 28 master's graduates from underrepresented minority groups.
"For the past four years each May, the Graduate School has held the Celebration of Excellence in Diversity recognition ceremony on campus, a space where we can recognize the triumphs and accomplishments of students of color, while also acknowledging the perseverance, willpower and hard work it takes to obtain an advanced degree," said Tamekka Cornelius, director of graduate recruitment and diversity retention. 
Cornelius noted in her remarks to the audience of students, administrators, mentors, family members and friends that the groups' accomplishments were especially meaningful on a campus where graduate students of color are just 22% of the student body, 12% of faculty and 16% of staff.
"The saying 'If you can see it, you can achieve it', is even more impactful here. And for that we celebrate you," she said.
The following graduates and students were celebrated:
Masters Graduates
Tiffany Adams, MSSW
Karima Badouan, MEd
Khadija Boukhrys, MS
Jeremy Randall Boyd, MEng
Jericho Curry, MBA
Sami Dada, MBA
Taylor E Garrison, MSSW
Jessica J. Hampton, MBA
Porsha Hodges, MSSW
Ricco Hughes, MBA
Danielle Little, MS
Danial Malik, MPH
Patrick F. McKinney, MEd
Sydney L. Miller, MEd
Janae Mitchell, MPH
Erica Denise Neal, MEd
Oluwatomisin Abisola Ogungbenle, MA
Brooke Raglin, MSSW
CeCe Railey, MPH
Maurice Nicholson Rodgers, MPA
Kulwant Singh, MBA
Cydni Sloan, MA
Demondrea Starnes, MAT
Brittany Lashae Tillman, MSSW
Chanel Watkins, MSSW
Jordan White, MPA
Kinithi M K Wickramaratne, MS
Aggie Williams, MS
Doctoral Graduates
Shamsudeen Abubakar, Engineering
Nana Ama Aya Erzuah Bullock, Public Health Sciences: Specialization in Health Promotion & Behavioral Sciences
Raymond Green, Education & Human Development
Trinidad Jackson, Public Health & Information Sciences
Victory Osezua, Public Health & Information Sciences
Hazel Ozuna, Medicine
W. Denae Powell, Pan-African Studies
Tytianna Nikia Maria Ringstaff, Curriculum and Instruction
Doctoral Candidates
Olalekan Adepoju, Bernard Louis Adjei, Taylor Garrison and J. E. Young.