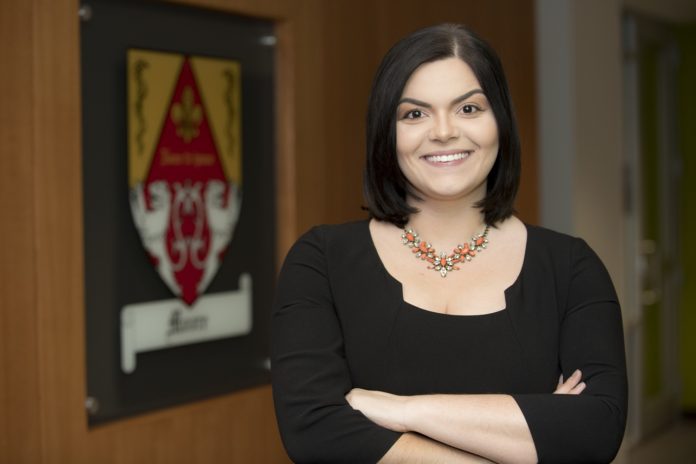 Meliha Hrustanovic-Kadic developed a passion for medicine while serving as a translator for her aging grandfather during hospital visits. On Saturday, she will graduate from UofL School of Medicine.
When she was eight years old, Meliha Hrustanovic-Kadic and her family fled war-torn Bosnia as refugees. They settled in Bowling Green, Kentucky, adapting as quickly as they could to the new language and culture.
Soon afterward, her grandfather arrived in the United States as well, but his health quickly deteriorated.
"I was the oldest of my siblings and the oldest of the grandchildren. I found myself riding in an ambulance with my grandfather on a frequent basis. I became his interpreter for every emergency room visit and hospital stay. As his condition unfortunately worsened, my curiosity and passion for medicine grew," she said.
Early in her college career, she made it official — declaring pre-med as her major during her sophomore year at Western Kentucky University.
"I can't imagine myself doing anything else," she said.
Hrustanovic-Kadic considered other medical schools, but knew she wanted to be at UofL.
"I felt a welcoming atmosphere from the start and loved how diverse it was. I wanted to attend a medical school that excelled in patient care, research, teaching and was involved in the community. UofL has surpassed all of my expectations," she said. 
Hrustanovic-Kadic appreciates the school's commitment to students' well-being, with wellness initiatives, mental health counseling, an active LGBT program and diversity events. As a medical student at UofL, she has served as a representative on the diversity committee and volunteers for Kentucky Refugee Ministries.
"So many individuals, from instructors and attendings to fellow medical students to the medical student affairs staff, have become like family over the years," she said. 
Wartime displacement prevented her parents from completing higher education, which, combined with learning a new language, put the best jobs out of reach. Ultimately, they reached for the American Dream, opening their own transportation company.
"I was 15 at the time and have helped them manage it ever since," Hrustanovic-Kadic said. She has continued to support the family business even during medical school. "We function as a team and everyone tries to pitch in to help when they can. Don't ask me how I've balanced everything because I don't even know – perhaps a mix of good time management and organization, along with a 'when there's a will, there's a way' attitude."
Her family has supported her during her medical education as well, with frequent visits to Louisville and even preparing her favorite Bosnian foods – krofne, pita, hurmasice and others – during exam weeks.
"You name a way and I can assure you they've done it – emotionally, spiritually, physically, financially," Hrustanovic-Kadic said. "I cannot even begin to describe just how important a supportive family is, especially through medical school."
She will receive her diploma at the UofL School of Medicine Convocation on Saturday, but her days at UofL are not over. Hrustanovic-Kadic will remain at UofL to pursue residency in internal medicine.
"I enjoy taking care of patients in both inpatient and outpatient settings and there are so many interesting routes one can take with a career in internal medicine," she said. "I am looking forward to the experiences I will gain during residency."