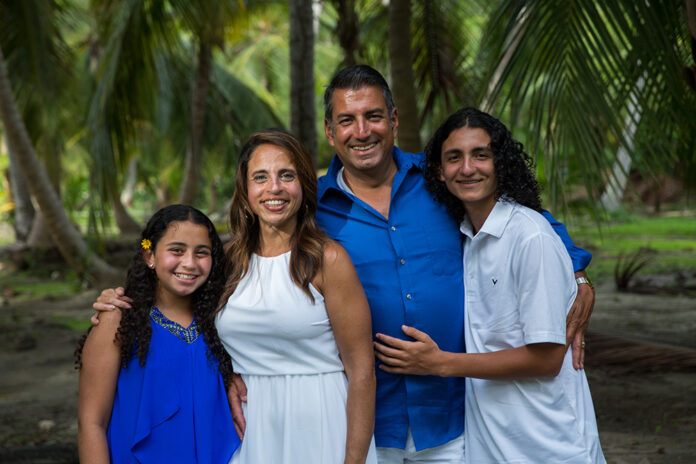 Two words that describe 2022 UofL graduate Crystal Simmons-Chukalas are: intentional and ambitious. The New York City native started her bachelor's degree at Hunter College 34 years ago, working nights at a large car rental company to pay tuition and get by. She was determined to climb the ladder at this job, taking on all of the extra work and responsibilities that she could handle.
Simmons-Chukalas was soon promoted from a car rental associate position to lead agent, eventually working in the corporate office. Her various roles led her across the country, where she directed training departments and airport operations in San Francisco, Atlanta and New Jersey. She stayed with the car rental company for nearly 29 years and made a name for herself in the industry.
Eventually, Simmons-Chukalas left the car rental company for a role as vice president of learning and development at a company in Colorado. 
Though her professional career had taken off, not finishing her college degree remained a regret. When the Covid-19 pandemic hit in 2020, however, her position was eliminated and Simmons-Chukalas had the chance to rethink her course. 
"I think it was the perfect storm for me and I knew that the writing was on the wall … that it was time for me to go back to school. So I made the commitment that I was going to go back and finish. I just jumped into, once again, the deep end. I like to do that," she said.
She searched for the best program to fit her needs and landed at UofL. Intentional and ambitious as ever, she had to get the Dean's approval to take on the heavy course load needed to finish her B.S. in Organizational Leadership and Learning (OLL) in 1.5 years, which she did completely online. She's graduating May 14 with a 4.0 GPA. 
"I wanted a program that was catered to adult learners. I knew that I wanted to get credit also for my life experience. So, I actually interviewed schools, just like I would if I was going to find a vendor to partner with in a corporate role," said Simmons-Chukalas, "I spoke to (a faculty member) about UofL and he did a great job promoting the program and talking about the benefits of it. I really valued and appreciated that UofL is different in the sense that you can earn credits for work-life experience through your PLA (Prior Learning Assessment) and, at the same time, you don't have to pay for those credits that you're earning."
The OLL department at UofL offers innovative programs at the bachelor's, master's and doctoral levels. These programs educate professionals who focus on leadership, organization development, human resources, and workforce development in order to benefit individuals, organizations and society. 
Simmons-Chukalas expressed that her courses were extremely validating and affirmed the work that she's been doing for so long. Obtaining a degree from UofL will provide the credibility and additional industry recognition needed as she continues to move forward in her career. It's also setting a great example for her two kids – her biggest motivation.
With her degree finally in hand, Simmons-Chukalas recently started her own consulting business and is working for a company where she builds programs to help underrepresented individuals grow professionally through mentorship and career development. Her long-term goal is to become a Chief Learning and Talent Officer.
"I love doing executive development programs, but I'm also very passionate about helping people who are underrepresented. So whether that's people of color or women or the LGBTQ community … whomever that might be," she said. "Those are big passions for me. I'm someone who came from very humble beginnings. I want to always be able to lift up and give a hand back to someone else going through that same experience because being successful in your career gives you the means to be able to provide for your family, and that's probably the most rewarding thing that I've been able to do."