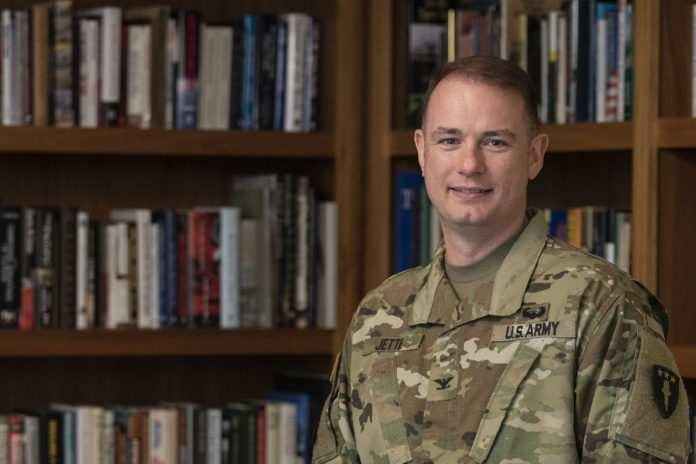 Like many new students at the University of Louisville, United States Army Col. Jeremiah J. Jette feels a bit like a fish out of water.
"It's my first time on a civilian campus," the West Point alumnus said. "I've been in a uniform school since I was 17. It's a learning experience from the ground up for me."
Jette, 43, a native of Norwich, Connecticut, is UofL's fifth consecutive U.S. Army War College Fellow. He will audit six classes on Belknap Campus for the 2018-2019 school year while also performing outreach for the Army and participating in leadership activities.
The Army War College Fellow program helps Army leaders sharpen their skills and broaden their outlook as strategic thinkers. There are fellows in U.S. universities, U.S. government departments and government-funded agencies, think tanks and industries.
Jette graduated with a bachelor of science degree in electrical engineering from the United States Military Academy and commissioned as a Signal Corps Officer in 1996. He also earned a master's of science degree in telecommunications management from the University of Maryland University College online.
The Army War College fellows are given an office in the McConnell Center to use for the year they are at UofL, and Jette said he shares some of the same concerns as the freshmen he met: "What classes are we taking? What building is it in?"
Jette's first semester classes are in national security policy, digital politics and human resources leadership. He is considering using his fellow experience toward furthering his Army career in cybersecurity. He has spent the past two years at Fort Knox, where the Army's human resources headquarters is located and where he was the branch chief responsible for the assignments and talent management of nearly 25,000 Signal Corps soldiers and noncommissioned officers.
The colonel has also been stationed in Germany, South Korea, Italy and Kuwait and served in both Iraq and Afghanistan. He has numerous awards and decorations, including the prestigious Bronze Star.
Jette chose UofL because of his fondness for Louisville and the state of Kentucky, and after spending his adult lifetime moving from place to place, he decided he want to settle down and "spread some roots." He became interested in applying for the fellowship after hearing about it from his friend Col. Archie S. Herndon Jr., who spent the 2016-2017 academic year as the UofL Army War College Fellow.
Although Jette has lived outside Louisville for the past two years and knows many of the city's highlights, there's still at least one thing he still wants to experience.
"Two years and I still haven't had a hot brown," he laughed.