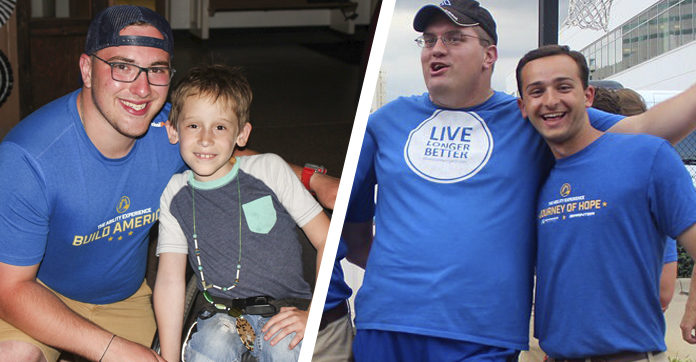 Mahfouz Matthew Batshoun and Antonio Burgess finished the spring semester and were ready to embark on a long-awaited summer – one, looking back, they now call life-changing.
While their friends packed bags for glamorous retreats to international destinations or tropical climates, the pair of UofL students and Pi Kappa Phi brothers chose to be part of their fraternity's long-standing philanthropic initiative, The Ability Experience.
Each summer, members of Pi Kappa Phi trek across the country and participate in one of six nationally-known programs that are part of The Ability Experience, a nonprofit organization aimed at building relationships and empowering people living with disabilities.
Batshoun found one program that captured him immediately, Build America. The six-week-long event focuses on building or repairing accessible amenities for camps, specifically created to give those who have disabilities a summer camp experience.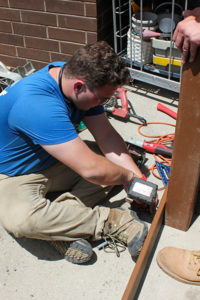 "My great aunt was paralyzed from the waist down and before she passed away, she worked incredibly hard to push for equality for the community of people with disabilities in Kentucky, including things like the integration of accessible parking," Batshoun said.
The sophomore from Northern Kentucky first traveled to Boston, where he and his 10-member team spent time bonding and receiving training on how to correctly use power tools. The group visited with and worked with campers in Ohio, Colorado, Arizona and California. At the end of each trip, Batshoun said his team presented a $5,000 grant from the money raised to each camp to aid in future projects.
Of the many memories he'll carry with him, Batshoun's time at Colorado Lions Camp stood out in particular. During a project, his team worked on repairing a wheelchair ramp for the girls' cabin. One day, the only camper in a wheelchair asked Batshoun if he could test the ramp after it was finished.
"The next workday finished and we finally completed the wheelchair ramp, so I waited until after dinner to tell Easton that we finished the ramp and we were ready for him to test it out," Batshoun recalled. "We walked up to the cabin and he started to go up the ramp. Once he got to the top, he had the brightest, purest smile I had ever seen on his face, and it was at that instant I truly knew the impact that The Ability Experience has."
Though it's impossible to predict memories like that, Batshoun said it didn't take much convincing for him to dedicate his summer to The Ability Experience.
Batshoun's friend Davin Newsome, also a Pi Kappa Phi member at UofL, worked with Build America in 2017 and convinced him to do it as well. 
"Davin was not wrong at all. Build America was by far the most impactful and memorable seven weeks of my entire life. From the lifelong brothers I spent every waking hour with for seven weeks to the countless amount of lives we impacted along the way, this was without a doubt the summer of a lifetime," Batshoun, a sophomore, said.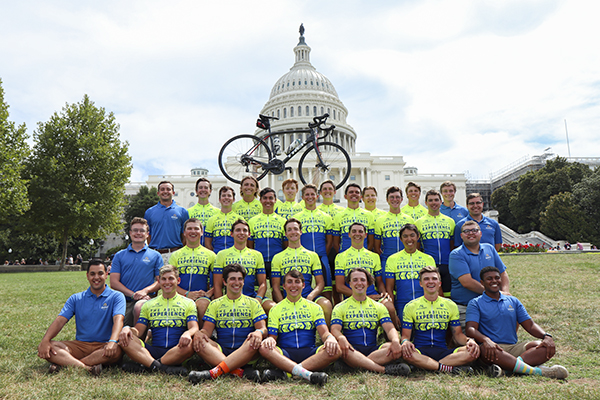 Burgess elected Journey of Hope, a cycling trip in which three teams ride to spread a message of acceptance and understanding for people with disabilities to Washington D.C., with starting destinations in Seattle, San Francisco and Santa Barbara.
Training started May 27, and the team left June 9 from San Francisco to begin their cross-country voyage, with all three teams converging on Capitol Hill.
As the north route's crew chief, Burgess led a 29-member team on a trip that lasted 63 days. One of their stops included a two-day stint in Grand Island, Nebraska, where Burgess recalls spending "every moment" with people, sharing meals and visiting their workplaces. He said lunch at a park constructed by brothers of Pi Kappa Phi was easily the highlight.
"The two mothers who gave us the tour of the park have been around Journey of Hope and Build America for nearly two decades and so have their kids," the Lake Mary, Florida, native said. "One of the mothers had a daughter with a disability in the late 1990s and early 2000s. Her daughter, because of her disability, always had trouble connecting with people until she met cyclist and brother Jason Tirado. He made a lasting impact on her and her family and stayed active in their lives before he sadly passed away in 2000.
"When my team heard that story, we were all moved to tears because both of the mothers were also getting emotional and you can see how much of an impact he had and what he meant to the people of Grand Island, as well as what Journey of Hope and brothers of Pi Kappa Phi mean to the community."
Beyond the sentimental impact, the three teams contributed financially, combining to raise more than $600,000 and helping more than 3,000 people.
As much as Batshoun and Burgess know they played a significant role in improving the lives of others, Burgess also realizes how much the program impacted him personally.
"Journey of Hope has made me into a better servant leader and in turn has made me want to become a better man, a better citizen, a better friend, a better brother," Burgess said. "I will continue to dedicate my time and efforts to helping serve the lives of people with disabilities and continue to give back to my local community wherever I am."