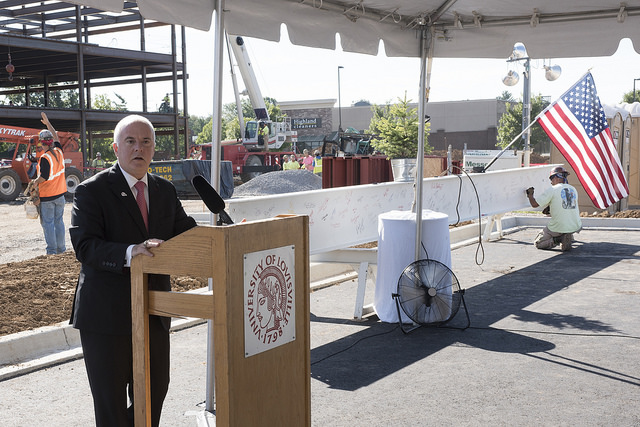 The third office building at the University of Louisville's ShelbyHurst Office and Research Park is scheduled to be open for business in summer 2016, and it's already landed its first tenant.
Construction progress was celebrated today by its co-developers, the University of Louisville Foundation and NTS Corp., with a "topping off" ceremony for the building, called 500 North Hurstbourne. The ceremony marks the placement of the highest beam atop the structure.
View more photos from the event
The building's first tenant, Monroe Shine & Co. Inc., also was announced at the event. The accounting and wealth management firm will lease 7,500 square feet.
The 500 North Hurstbourne building will be a four-story, 120,000-square-foot property on Hurstbourne Parkway, near Shelbyville Road. It will feature 10-foot ceilings, ample parking and lush landscaping with a covered outdoor meeting and patio area for employees. It is expected to be Leadership in Energy and Environmental Design (LEED) certified upon completion.
Messer Construction Co. is the general contractor on the project, and Philadelphia-based KlingStubbins provided the architectural design.
The 500 North Hurstbourne building will join two completed ShelbyHurst office buildings – 600 North Hurstbourne and 700 North Hurstbourne. Anchor tenants in the properties are Churchill Downs Inc. and Steel Technologies LLC, respectively. Both buildings leased quickly and helped dramatically change the Shelby Campus, which had been lightly used.
"Through our great partnership with NTS, we are transforming the UofL Shelby Campus from an underused asset into a thriving office and business park," said UofL Foundation Chairman Robert Hughes. "This park is generating revenue for the university, even as public funding continues to wane. That revenue is being used, in part, to help UofL meet its educational mission and better serve students, just as our president, Dr. James Ramsey, envisioned."
NTS President and CEO Brian Lavin expects 500 North Hurstbourne to be as successful and popular as the first two ShelbyHurst buildings. "The innovative and creative office product that we are delivering to our community continues to be well-received," he said.