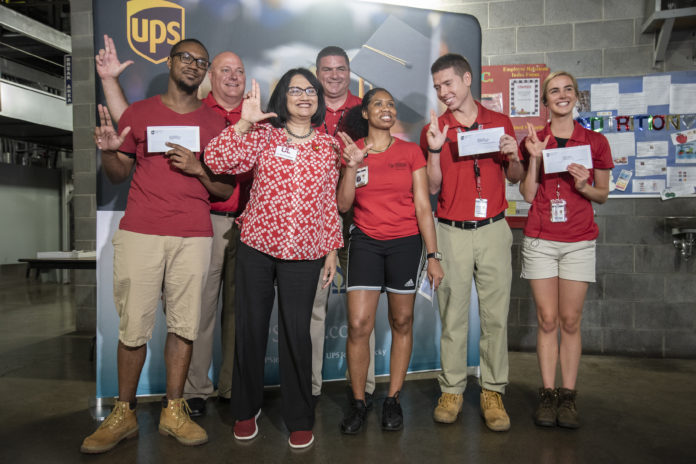 The University of Louisville recently extended its contract to keep its Metropolitan College program in place for at least another seven years, or until the spring of 2027.
The program, in partnership with UPS, Jefferson Community and Technical College and the state of Kentucky, allows college students to work the third shift, for about 15 hours a week, at UPS' World Port Freight Facility at the Louisville International Airport. In return for their work, UPS gives each student a paycheck and covers their tuition and fees.
Metro College also works with local companies to help place students in careers after graduation through its built-in Career and Academic Planning Program, which requires students to complete a career assessment and meet with a counselor regularly.
It's not hard to figure out why UofL would want to keep this program going. For starters, it provides students with a unique opportunity to graduate debt-free. It also encourages them to consider careers in high-demand fields like computer sciences and health care.
Thalia Almenares, a dental hygiene major at UofL, is one such student taking advantage of the program.
"If UPS is my big family, then Metro College would be my mother," Almenares said during the contract signing event Jan. 28. "I say this because my mother makes sure that I have food, that I feel supported and loved, that I have everything I need. Well, Metro College provides me everything regarding school needs."
It's also a win for UPS, which has struggled in the past with workforce shortages. Before the college launched, the average tenure of an overnight worker was eight weeks. Today, it's almost three years.
As the company's PR manager Jim Mayer explains: "We need employees here to work at night, and it's a challenging time. It's a challenging shift. The benefit is we get great students who are committed, many of them come here, stay four years so it really is possible to graduate with zero debt."
Because of this mutual benefit, the program earned recognition in 2017 by University Business magazine as a "Model of Excellence." UofL was one of six colleges and universities honored by the publication. 
The Metro College program was founded in 1988. Since its inception, 20,756 UofL and JCTC students have participated. Most recently, from the spring 2019 through the fall 2019, the program had a total of 4,336 enrolled participants – 2,511 of whom are from UofL and 1,825 of whom are from JCTC.
According to Carrie Faller, director of Workforce and Student Development at Metro College, the goal is to reach 2,800 UofL participants per semester.
"For the last two years, we have focused on increasing enrollment, which is reflected in [our enrollment trends]," she said.
Indeed, that most recent 2,511-participant number is much higher than the 1,811 number from the fall of 2018. When the program first started, there were less than 800 UofL participants.
Yielding an upward enrollment trajectory will remain a goal for the program throughout the next seven years and, potentially, beyond.
"The Metropolitan College program is a workforce development initiative that removes financial barriers to postsecondary education while supporting workforce needs, preparing participants for future careers through targeted career development activities, offering workforce pathways to high-demand fields, and providing opportunities to grow participant wealth," Faller said.