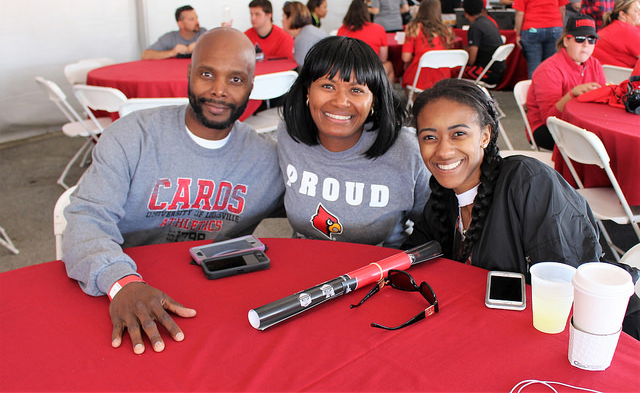 In its 10th year, UofL's Family Weekend participation grew to an all-time high this past weekend, with more than 1,600 tickets sold for the Family Weekend football game against Murray State, more than 300 family members at the pre-game tailgate event, and more than 500 at a Sunday Brunch in the Ville Grill.
Family Weekend, sponsored by the UofL Parents Association, is a Cardinal tradition designed for the entire family that includes numerous campus and Metro Louisville events.
"It's meant to provide families the option of coming back to campus after the fall semester has started to get a taste of student life," said Glenn Gittings, director of Special Programs and the Parents Association.  
Events this year included: Free Outdoor Movie Night, Noches De Familia Y Amigos, Raise Red Zumba-thon, Career Development workshop on choosing your career path, a pregame meal and tailgate, cheering on the Cardinal football team, visiting the Kentucky Derby Museum, Sunday Brunch at The Ville Grill, Family Sunday at the Speed Art Museum and cheering on other Cardinal sports such as Volleyball, Soccer and Field Hockey, among others.
Click here to check out more photos from the weekend.