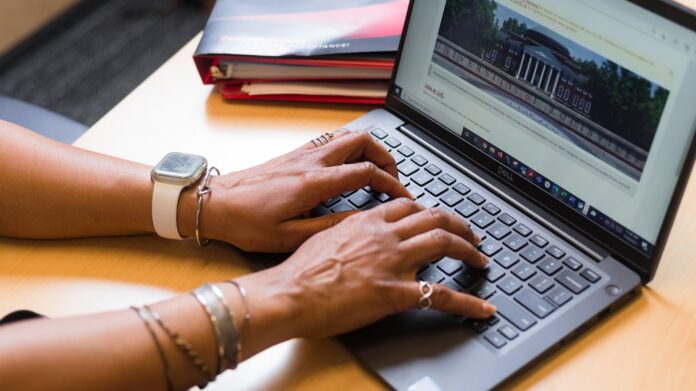 A national program designed to help faculty reach goals is making a big difference for Dereck Barr-Pulliam, assistant professor in UofL's College of Business. He says the 12-week virtual Faculty Success Program, is helping him better set priorities.
"Every faculty member has their time allocated across teaching, research and service, but there is no guidebook on how to structure your time to get all these things accomplished," he said.
The program is facilitated through the National Center for Faculty Development & Diversity (NCFDD), an organization that provides on-demand access to mentoring, professional development and support. UofL has paid for an institutional membership to NCFDD, and anyone employed by the university may join at no-cost.
This year, several faculty of color are being supported by their school's dean and the Office of Diversity and Equity to participate in NCFDD's Faculty Success Program aimed at helping them increase research and writing productivity, while maintaining a healthy work-life balance. This opportunity provides needed resources as the faculty pursue tenure and other academic goals.
Amirah Jackson, assistant professor, School of Dentistry, is new to academia. After working a few years for a private dental practice, Jackson returned to her dental school alma mater in January 2021 to teach.
"This program is helping me understand the many aspects of being a faculty member, and it is fruitful to learn about how others navigate their professional careers," she said.
Each participant is divided in groups, with four faculty and one coach from throughout the United States. They are each given homework assignments and meet weekly to discuss progress.
Barr-Pulliam says the program is helping him get a better handle on how to manage his time to accomplish both present and future tasks.
"Last week we talked about putting together an individual strategic plan and this week we are placing goal objectives onto our calendars. This creates accountability. During our weekly meetings, we are encouraged and give a report on what we've committed to do," he said.
He says the program is about a mindset shift, helping faculty think about roadblocks that could keep them from research and writing and how to move past those hurdles.
"One of the things I've learned is the importance of writing research-related content 30 minutes every day," he said. "I'll get more done if I do a little each day."
For Jackson, social media can sometimes be a distraction. She's learned one way to manage that is to take the app off her phone on days when it could interfere with a particular task. Participants also are encouraged to calendar a set time for social media, making it part of their weekly activities.
Barr-Pulliam has worked at UofL since 2019, and says it's great to be part of an organization committed to NCFDD membership.
"I wanted to work at an institution trying to improve access for multiple populations," he said. 
Jackson agrees, and gives heartfelt thanks to those who supported her in this program.
"I am so grateful to Faye Jones, Diane Whitlock and the Office of Diversity and Equity, and to Dean Bradley for making this possible for me," she said.
Barr-Pulliam encourages other faculty and staff to signup and take advantage of the basic NCFDD offerings.
"This is a good program and no matter where you are in your journey, there are nuggets you can take away. It provides skills that are hard to acquire otherwise," he said.
Other UofL participants of the NCFDD's Faculty Success Program include:
Claudia Angeli, assistant professor, J.B. Speed School of Engineering
Aishia Brown, assistant professor, School of Public Health and Information
Kimmerly Harrell, assistant professor, School of Medicine
Kalasia Ojeh, assistant professor, College of Arts and Sciences
Shaun Owens, assistant professor, College of Education and Human Development
The 12-week program ends in November.