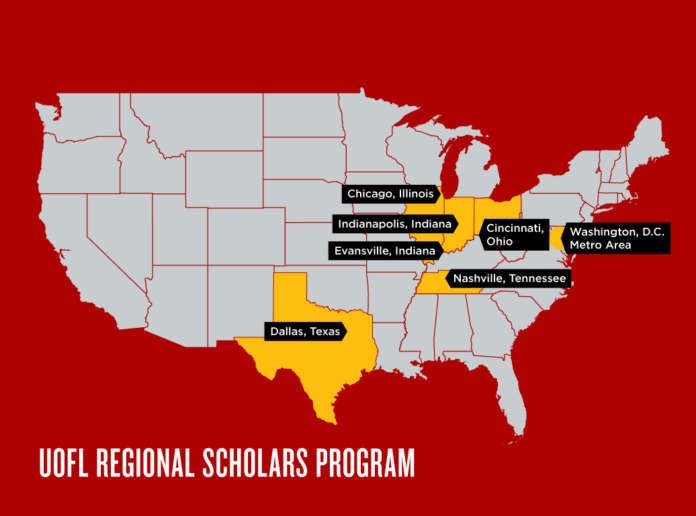 UofL has expanded its Regional Scholars Program to include Evansville and Indianapolis, boosting the total number of targeted regions to seven. The expansion is a result of the initial success of the program, which was first introduced last year in Chicago, Cincinnati, Dallas, Washington DC, and Nashville. 
The program eases the financial burden on out-of-state applicants by providing up to $16,000 in scholarships, and contributed to the more than 20 percent of students from outside of Kentucky who are part of the fall 2018 cohort. 
One of those students is Shriya Mehrotra, a freshman from Chicago. When looking at colleges, she was attracted to UofL because of the civil engineering program at the J.B. Speed School of Engineering, and the unique co-op and hands-on experiences it offered. But she also knew that out-of-state tuition could be a barrier.
"This scholarship is the reason I'm actually here," she said. "It's a very helpful tool for students from out of state."
In addition to her classes, Mehrotra has spent her first semester at UofL getting involved in the campus community. She joined RaiseRed, the Indian Student Association and is a member of Cardinal Bhangra, a club that competes in Indian dancing. 
"I really like it here and I'm so glad this scholarship gave me the opportunity to attend," she said. 
The Regional Scholars Program, which includes transfer students, is part of an effort to increase out-of-state enrollment by offering financial incentives. In most of the targeted areas, UofL has assigned a dedicated admissions counselor to serve applicants and families in those regions.     
"The Regional Scholars Program is a way to reach potential students in areas where we've already had good success," said Jim Begany, vice provost for strategic enrollment and student success. "But it's not just about enrollment, it's also a way to showcase our university and do our part to build a more educated, prepared Kentucky workforce."
Prospective students who meet eligibility requirements are automatically awarded a $10,000 tuition discount upon their acceptance. Students who score well on standardized tests and have strong GPAs could be eligible for additional scholarships. The regions are:
Chicago
Cincinnati
Dallas
Evansville, Indiana
Indianapolis
Nashville
Washington, DC Metro
More on the program and other scholarships available here. To apply to UofL, click here.