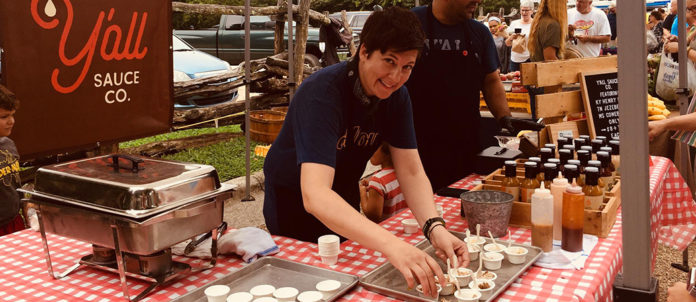 An abundance of talent exists on this campus long after we turn off our office lights and go home. This is evident during the annual Open Walls Faculty/Staff Art Exhibit, or at international dog competitions or at music festivals. 
Some of our employees hone their talents in the kitchen. Paige Harlow, a graphic designer in UofL's Delphi Center for Teaching and Learning, launched the Y'all Sauce Company in April 2018, for example, with business partner Josh McGee, whom she met at Highland Baptist Church several years ago.
The duo sells 12 oz. bottles of their signature sauces, as well as gallons for restaurants. Y'all Sauce is currently only sold in North Carolina, where the company launched, as well as online at yallsauce.com.
Harlow and McGee launched the company because they simply wanted to do something that brought people together.
"Especially in such divisive times," she said. "We're both creative and have a passion for building community, and we both knew food was a great way to bridge the gaps. The other thing we loved was telling the history of these sauces."
McGee has a culinary background, serving as a chef at various restaurants. Harlow takes care of the branding and marketing side. She said she balances her time at UofL with the Y'all Sauce business by scheduling far in advance and dedicating weeknights and weekends to the business.
"The good part about working at UofL is that there is the knowledge I gain from the work that I do and from my colleagues," she said. "We often talk about new trends in marketing and although it's focused on higher education there's a lot I can glean."
Y'all Sauce, which is technically based out of Winston-Salem, North Carolina, was recently selected to participate in an accelerator program through NC Idea.
"It will be on my business partner to attend the lab, network, distill the information and do the heavy lifting. I wish I could be more hands-on," Harlow said.
The Y'all Sauce portfolio entails a number of flavors, from Tennessee Jezebel to Kentucky Henry Bain Sauce. It also includes a Y'all Sauce Box and t-shirts. Harlow's favorite sauce depends on her mood and which dish she is preparing. 
"If I had to choose I guess I would pick our Comeback Sauce," she said. "It literally goes with everything and it has a nice Cajun kick to it."
From sauces to pies
Harlow isn't the only one working on culinary research and development. Kenyatta Martin, timekeeping and payroll manager and procurement card manger, created her own pie business, called "Sweetee Pies Butterfly," featuring both sweet and savory pies in 9 and 5-inch sizes, as well as petite bites.
Sweetee Pies offers five flavors: Signature Southern Chess, the "Black Bottom" Chess, Poppy's Southern Pecan, Freddy's "Derby-fied" Chess and Zesty! Lemon Chess. There is also a pie of the month flavor; June's, for example, was an apple cinnamon chess pie.
Martin said she is constantly in the kitchen developing new flavors. The Poppy's Southern Pecan Pie is a customer favorite, with pecans blended into caramel nougat mixture and poured into a buttery pie crust. It's stamped with the company's signature confectioners' sugar-based butterfly and, according to Martin, "made with love."
"Our offerings are unique in that we have price points for nearly any budget and pie sizes for any waistline," she laughed. "Our customers appreciate that we have tiny and traditional sized pies."
Sweetee's recently developed a new size, the JoJo Sampler – a 3-inch hand pie.
Martin has been baking since she was 7. Sweetee's, however, is less than a year old and was created out of a strong demand.
"I made pies for local pie sales. Originally, I had just one pie – Our Classic Southern Chess (I think folks in Kentucky refer to it as 'transparent pie'). Then, Thanksgiving rolled around and I found myself with five or six orders on the chess pie. In December of 2018, I developed a southern pecan pie recipe and it's grown from there," she said.
Martin has it in her blood. She is the descendant of what she calls "two of the finest bakers" and wholeheartedly believes that homemade pie is a comfort food that offers a taste of home. 
"Baking goodies has always been a family affair; matter of fact, I had my first flour sifter before I had a bicycle," she said. "Baking not only relaxes me but evokes nostalgic feelings of home, as the majority of my immediate family samples each new pie flavor that I develop."
Sweetee's currently ships to eight states with a flat shipping rate. More information is available on its Facebook and Instagram pages (@sweetbflypies).