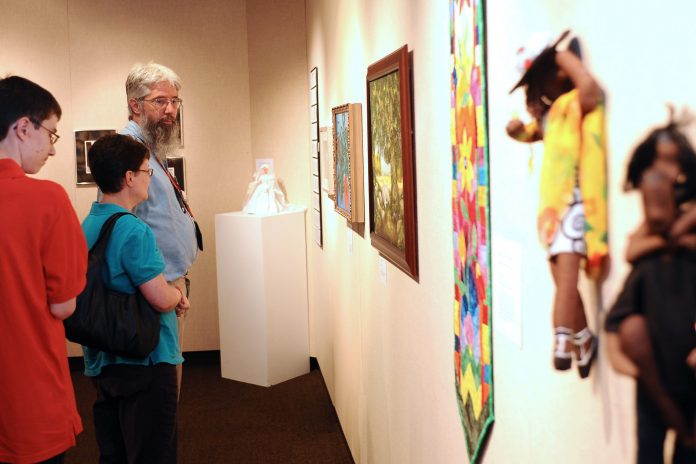 Did you know your department's program coordinator can also create a fiber tablecloth that is far too pretty to eat off of? Or that the associate professor knows how to paint with acrylic, in addition to teaching brain science?
Were you aware that the employee from physical plant who fixed your heater last week can also create glass pieces? And that the communications specialist you just met with can also weave a basket out of reed and seagrass?
Did you know your dean has quite the eye for photography?
While most of us are focused on making UofL great by day, some employees also have artistic talents they hone outside of the office. As part of the 6th annual Open Walls art exhibit, 30 faculty and staff from across campus will display their talents. The show starts June 13 with an opening reception from noon-2 p.m. in Ekstrom Library's Photographic Archives Gallery.
Open Walls started as an initiative of the Great Places to Work Committee as an opportunity for employees to show their creative side. Participation has grown steadily each year and this year will feature one more artist than last year.
The artists are from all corners of the university including, for the first time this year, a dean. College of Arts & Sciences Dean Kimberly Kempf-Leonard's photograph captures her perspective during a hike at her family summer vacation home in Wyoming.
"I spend a lot of time hiking in the mountains with my camera around my neck. The photograph I have on display is from a special family birthday celebration in Yellowstone. I took the photo on a very early morning hike of this tree I thought looked particularly majestic with the steamy clouds from a geyser floating behind it," she said.
Dean Kempf-Leonard has been taking photographs for fun for a long time. She loves shooting nature and family, mostly when she's in Wyoming at her home in the Big Horn mountains, near Sheridan.
Chuck Sites is another artist featured in the show. The Systems Analyst from the Speed IT Group has two pieces on display, including an oil painting on canvas titled, "Inspired by Spring." The title, he said, was motivated by the question, "What is art?"
"Art has such a broad meaning, but when we say 'the art of X,' the X has inspired creativity at its core regardless of what X is. For example, 'the art of war;' does war have beauty? 'The art of cooking;' cooking has something, but does it inspire? When you ponder all the possibilities, the best answer is art is a toy for the mind," Sites said.
Holly Hogue, an administrative specialist in the College of A&S Research Office, has participated in Open Walls for the past three years. This year, she has submitted two pieces, including a canvas rug.
"The canvas rug I made while I was visiting my mom in Key West. She is an artist and gives my husband lessons whenever we visit. The rug sounded like fun so I took the lesson too. Count me in if it sounds like fun," Hogue said. "The rug started out as a large Zentangle until I got carried away with the flowers. It is colorful and bright, which is totally me."
Cheryl Monroe, with IT, is displaying two mermaid dolls which have won her awards at the Kentucky State Fair.
"I've been making dolls since I was little. My dad always said I had it in me. I used to cut up his socks to make them," she said. "Normally I make people, but I did mermaids this year because my granddaughter loves them."
Lana Metzler submitted a photo of Disney World's Main Street for the show. The piece is especially personal for the HSC Shared Services employee.
"In January at age 42, I ran my first full marathon at Disney World. I never thought I could do it. We stayed for the fireworks in the evening and I captured some 'magic' on Main Street. I look back at this photo and remind myself that I am a marathoner and that magic truly does happen here," she said.
Patrick Glisson, from Environmental Health and Safety, will display a collection of spheres created via knot-tying, a talent he developed out of necessity — he was tasked with teaching his son's Cub Scout Troop how to tie knots. He's been doing so ever since (his son is now an Eagle Scout and in his first year at Speed School).
"I like to say I got into tying knots out of self-defense. I've been actively doing it now for 11 years," he said. "I now tie knots to keep me sane."
William Burton, from the HVAC Shop in Physical Plant, brought his day job to life in a drawing he submitted titled "Firemain."
"I am a pipefitter by trade and I love seeing art involving pipes, fittings and such," he said. "I thought I would do one of my own."
This is just a sampling of art that will be on display starting June 13 in the Ekstrom Library's Photographic Archives Gallery, East Wing, Lower Level. The artwork will be on display from 8 a.m.-5 p.m. through June 30.