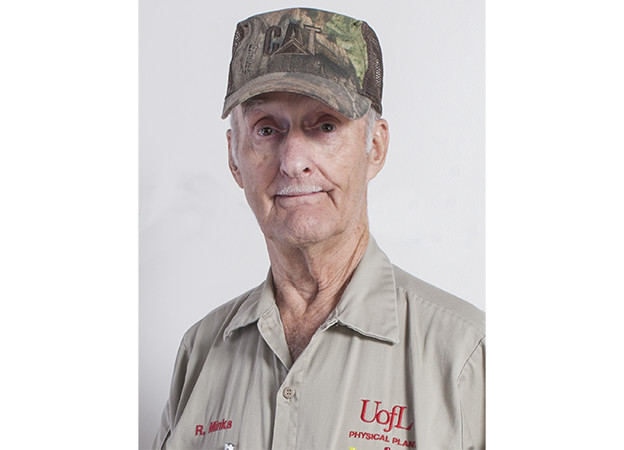 As the University of Louisville celebrated staff members for more than 6,200 hours of combined service this fall, there was one employee who had reached a rare career milestone. UofL electrician Rex Minks was honored for working at the university for 50 years.
"I just don't know where the time went," said Minks, 77. "Sometimes it seems like 50 years, sometimes it doesn't."
When Minks started at the university in 1965 as a laborer, the school's president was Philip Grant Davidson. He's worked under eight university presidents since those days, and now maintains emergency equipment such as generators, lights and smoke detectors.
All of the honored employees are given a catalog from which to choose a gift for their years of service. His choice of a gift made sense: a portable emergency generator for his home.
The longest-serving employee in Physical Plant, Minks said he won't retire until his wife gives her permission. "She says I can think about it, but we don't talk about it," he said.
One secret to his longevity on the job? Minks said he keeps to himself. "That way I stay out of arguments," he laughed.
This was the 33rd year for the annual Staff Recognition Luncheon, which honors employees who have worked at the university for 10, 15, 20, 25, 30, 35, 40, 45 and 50 years. Those being honored for Distinguished Service of 40, 45 and 50 years were treated to reserved parking and special tributes.
The luncheon was held in two parts, Sept. 25 and Oct. 9, at the Brown and Williamson Club at Papa John's Cardinal Stadium. It honored a total of 333 UofL employees with a combined 6,270 years of service.
"We're able to do what we do because of what you do," President James Ramsey told the honorees.
The honorees were given the red carpet treatment with rousing music from the University of Louisville Pep Band, which played as each honoree walked into the room. All honorees received a plaque commemorating their years of service.
In addition to Minks, the Distinguished Service honorees were:
45 Years: George Howe, Student Affairs.
40 Years: Donna Bartman, Systems Administration; Sheila Carpenter, Research Resources Center; Mary Evans, Justice Administration; George Kirwan, Belknap Administration; Ralph Fitzpatrick, Community Engagement; Patricia Gittli, Renal Medicine; Linda Mulligan, Education Resource Tech Center; Sharon Nuss, Psychiatry; Donna Richardson, Diagnostic Radiology; Martha Smyser, Housing and Residence Life; Kathy Sullivan, IT Communications; Robin Sutherland, Student Affairs; Laura Trachtenburg, Surgery; Phyllis Webb, Women's Center; Cynthia Wentworth, VPUA; and Larry Zink, Financial Administration.