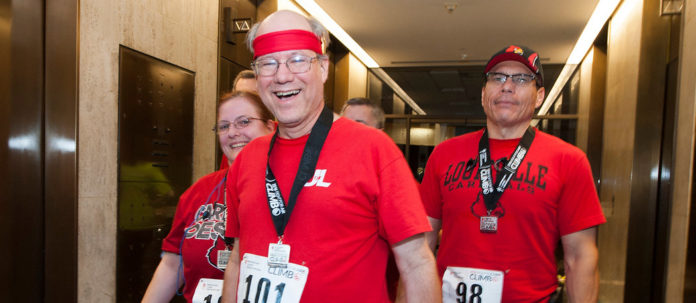 On May 7, 2015, longtime UofL employee Steve Lindsey received a set of new lungs after an idiopathic pulmonary fibrosis diagnosis turned his world around in 2013.
On Feb. 3, just days after his 60th birthday, Lindsey will participate in the American Lung Association's Fight for Air Climb. This will be his third time doing the event, which entails a 38-floor, 768-step climb in the National City Tower in downtown Louisville. He hopes to clear the course in a personal record time, but more importantly, he hopes his participation will help get the word out about organ donation.
"It does not matter whether you believe that when you die you go to the streets of gold or you fade into oblivion. You won't need your heart, your lungs, your liver. Be a donor and save someone else's life," Lindsey said. "That's what someone did for me. I'm trying to pay it back by doing as much as I can for others and living the life I'm living."
Lindsey has been a UofL employee for 35 years, starting as a program analyst I and working his way up to programmer IV. Since, the university has inextricably been a part of his life. He earned a bachelor's degree from UofL in 2010 and his wife Lisa also works in the IT department at Miller IT Center – she's in row F and he is in row E. The two, who have been married for 22 years, established the George W. Springstube Scholarship to help provide support to a Kentucky resident attending the Speed School of Engineering and majoring in Mechanical Engineering.
The couple parks in the Fairfax Building lot not far from MITC. During the summer of 2010, Lindsey began noticing that the walk to his office was becoming a bit more laborious.
"I would be out of breath and panting by the time I got there. My doctor told me it was because I was over 50 years old and over 50 pounds overweight. Old, fat guys get tired," he said.
Lindsey's doctor encouraged him to lose weight, but his breathing issues persisted. One day it was so bad, a student asked him if he was OK.
In the spring of 2013, he made an appointment with UofL's Dr. Jesse Roman, who headed up the interstitial lung program. Roman made the IPF diagnosis.
Idiopathic pulmonary fibrosis is a disease in which tissue deep in your lungs becomes thick and scarred over time. As the lung tissue thickens, the lungs can't properly move oxygen into the bloodstream. IPF affects about 200,000 people a year. There is no cure and many people live only about 3 to 5 years after diagnosis, according to the National Heart, Lung, and Blood Institute.
"My lungs were impaired. I couldn't force more air in. I remember that feeling very well," Lindsey said.
He continued to get around with the help of oxygen for about another year. But in 2014, his condition worsened.
"I would be carrying one oxygen tank in my shoulder bag, and my wife would take three more tanks in her shoulder bag. We went to a museum in Jackson, Mississippi, and I knew I was getting low on oxygen. I thought I could make it back to the car, but I was wrong. I can't tell you how terrifying that was," Lindsey said. "It was in that moment that I realized if I don't get on the donor waiting list, I was going to die."
His call came around 1:30 p.m. on a Thursday afternoon in May 2015. Lindsey was at work and asked his colleagues to let Lisa know it was time for them to gather their things and head to the hospital.
"Everyone I worked with gathered and was clapping as we walked out. It was a very emotional moment. My coworkers had seen me struggling to get into the building. They had supported me through all of it," Lindsey said.
Lindsey recalls very specific details about the process leading up to his surgery – the skinny table, the bright blue cloth – but the anesthesia hit quickly. He woke up the subsequent Saturday afternoon around 3:30 p.m.
"I heard Lisa say 'he's awake.' She then looked at me and told me it was all right," Lindsay said, fighting back tears. "The only thing that kept me from losing it was Lisa being there and telling me it was OK."
Lindsey hasn't experienced any post-transplant complications. In fact, he has thrived. In October, just six months after his double lung transplant, Lindsey ran his very first half marathon. Days later, he returned to work at UofL.
He has since completed six half marathons and has lost count of how many 5K races he's run.
"I wasn't athletic prior to this. In fact, I was the consummate couch potato," Lindsey said.
In 2015, nine months after his surgery, a representative from the American Lung Association asked him to participate in the Fight for Air Climb. It took him 24 minutes. He did it again last year, this time in 19 minutes.
"I think I'm the only lung transplant person doing this. This year, I'll be doing this again and again with someone else's lungs in my chest and, this year, I'll be 60," Lindsey said.
He hopes some UofL students and employees will join him. A few have already committed.
"UofL has been a huge support to me during this and such a big part of my life for so long," Lindsay said. "I love being here. My friends are here. My social life is here. I am proud to be a part of it."
See more of Lindsey's story below: