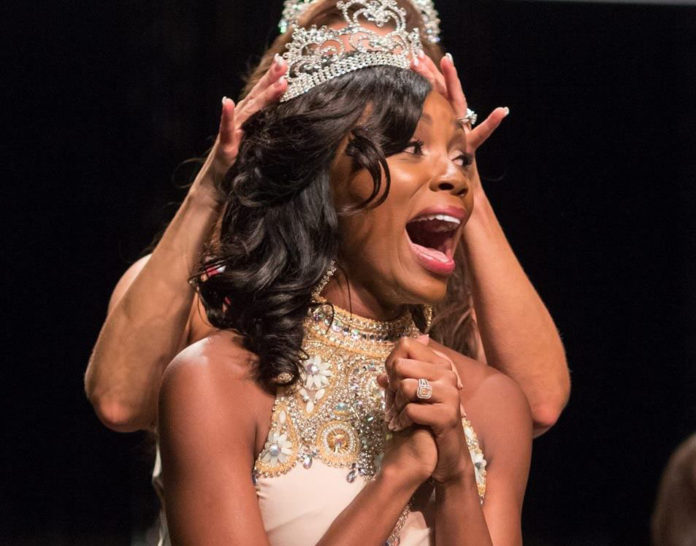 Tyiana Thompson has spent the past two years working as the enrollment manager for online learning in UofL's Delphi Center for Teaching and Learning. 
She also happens to be Mrs. Kentucky 2017 and will compete in the Mrs. America Pageant in Las Vegas in August. 
UofL News had a chance to talk to Thompson about how she manages her busy schedule and how her involvement in pageants allows her to provide guidance and resources to middle and high school students to help them understand the importance of taking education seriously at an early age.
UofL News: What brought you to UofL? 
Tyiana Thompson: I wanted to work here because I wanted to work for an intellectually prominent university that is dedicated to delivering quality educational opportunities to its students.   
UofL News: What is your favorite thing about UofL? About your job, specifically?
Tyiana Thompson: My favorite thing about UofL is how it continues to be a pillar within the Louisville community and the state of Kentucky. No matter what we are faced with, UofL stays committed to the true meaning of education and all that it entails.
My favorite thing about my job is having the ability to facilitate positive change within people and the institution. Every day I support individuals reach their goals to improve themselves and their family. I help people reach goals they thought they never could. Additionally, I strategically create and implement processes to make that journey easier for the student.  
UofL News: How has your job/higher education in genaral changed since you came on board?
Tyiana Thompson: I have been in post-secondary education for 11 years. I started out in the private for-profit sector which is vastly different from public education from a business approach standpoint, but similar in objectives  – delivering educational opportunities to those who pursue it. My job has changed quite a bit since I came on board and that is because education in general has changed. Institutions are paying more attention to enrollment trends and recognizing that we cannot delay our response to the market. Honestly, the stymied mentality of public institutions has really put many universities in a tough spot. Now, we see the rise of public institutions investing more in non-traditional ways of delivering education.
I work in online learning, and that is something that many universities view as less desirable in terms of growth investments. Data shows that online deliverables have very little negative impact on traditional programs. In fact, investing in online strategically enhances the university and the bottom line. Accessibility is something that is really important, there is a large market for individuals who want to pursue starting and/or furthering their education but can't come to class 3 to 4 days a week. That is a major trend in education right now, giving the student what they want, how they want it. 
UofL News: How long have you been involved in pageants? What made you get involved? 
Tyiana Thompson: The Mrs. Kentucky pageant was the first pageant I have ever done. So, the Mrs. America pageant will only be the second pageant I have ever done. I'm nervous to say the least. 
Every year I look for ways to develop myself and get more involved in community initiatives. Last year as I was researching different avenues, I came across the Mrs. Kentucky pageant. What drew me to participating was the fact that it is a married woman pageant that highlights women who have families, successful careers and are involved within their community. That is the talent portion of this pageant!
It also had awards in areas such as community involvement and career accomplishments. I actually won 5 of the 10 sub category awards, career achievement, best interview, contestant choice, photogenic and most ticket sales. I'm most proud of winning career achievement because my career is very important to me. It was nice to be recognized.  
UofL News: What are some of your fondest memories of being named Mrs. Kentucky?
Tyiana Thompson: One of my fondest memories was when all of the women were on stage in their beautiful gowns right before they announced the winner. You could see the sense of accomplishment on everyone's faces and the family support in the audience cheering us on; it was a surreal moment. For me, it was topped off with winning the contestants' choice award. That award meant that I made a positive impact on the amazing women I grew to know throughout that crazy, amazing experience.
UofL News: What do you want to accomplish next?
I want to win Mrs. America! I would love to have a national platform to provide guidance and resources to middle and high school students to help them understand the importance of taking education seriously at an early age – specifically, minority and disenfranchised populations.
UofL News: What do you do in your free time? 
Tyiana Thompson: I don't have a lot of free time right now. My involvement within the community has quadrupled. I spend most evenings and weekends attending charity events or speaking with youth groups. My husband and I squeeze in some travel when we can.
Photo credit: Andrew Kung