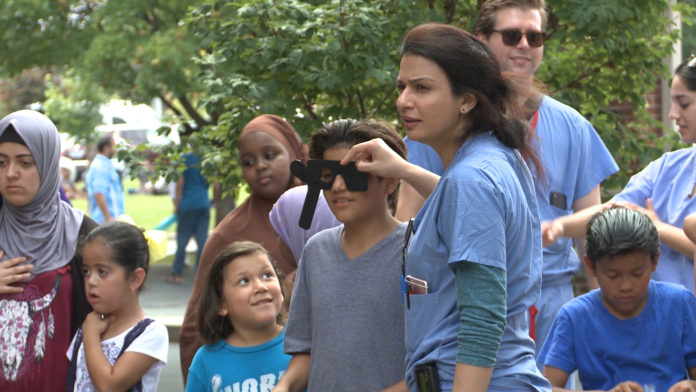 Thanks to faculty, residents and students from the UofL School of Medicine Department of Ophthalmology and Visual Sciences, 300 community children received free vision screenings at the Home of the Innocents on Saturday, Aug. 4. The event was organized to help refugee and underserved children in the community prepare to go back to school. It also was an opportunity for the doctors to catch serious vision problems while they can be corrected.
"Some of these kids are three or four, so if we intervene at this level we will be able to save their vision. Otherwise they would have gotten picked up in their teenage years or adulthood, and at that point we can't do anything," said Aparna Ramasubramanian, MD, assistant professor of ophthalmology.
Of the children screened, 73 were recommended for more comprehensive eye exams. The physicians are following up with their families to ensure they get the needed exams.
More than 20 medical residents, faculty members and medical students helped with the screenings.
"We have such an enthusiastic group of residents that are dedicated to community service. That's why we are here to help out the community and help the kids in need," said Sidharth Puri, MD, an ophthalmology resident at UofL.
The event also served as a learning opportunity for the medical residents.
"It's trying to pick up when they need to do a full exam and when not, which they can't learn in a clinic," said Ramasubramanian. "It's very important for the residents to learn that."
See a video from the event below.