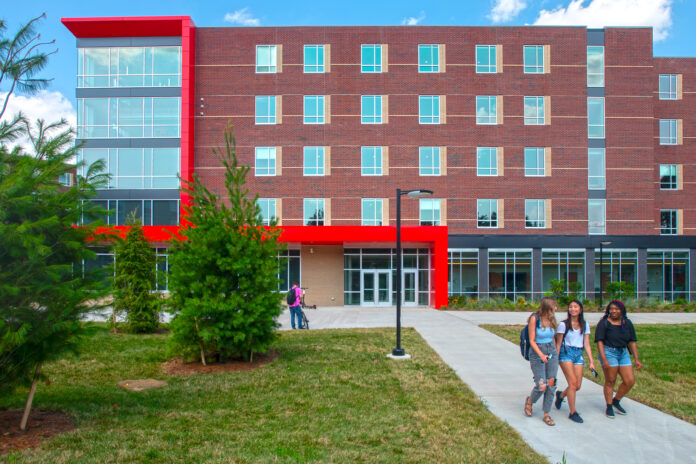 This year marks 85 years since the beginning of housing at the University of Louisville. Campus Housing has come a long way since the first residence hall opened in 1943. As part of its 2019-22 strategic plan, the university invested $87 million in the construction of two new residence halls on Belknap campus.
The first opened in 2021, and the second opened this fall. While the new residence halls are outfitted to meet 21st-century students' needs, both were missing one important element — proper names.
University of Louisville Interim President Lori Stewart Gonzalez provided that last key element at the Sept. 23, 2022, meeting of the university Board of Trustees, when she announced that the new resident halls will bear the names Belknap Village North and Belknap Village South. Gonzalez's announcement was met with the trustees' approval. In her remarks, Gonzalez noted the proximity of the residence halls to other university facilities, such as the Swain Student Activities Center, the Interfaith Center, Ekstrom Library, numerous classroom buildings and outdoor common areas. Further, the new Center for Engaged Learning, where students can find hands-on job and research opportunities, will open on the bottom floor of Belknap Village South.
"Both the placement of these new facilities as well as consideration of students' needs in the planning, design and construction exemplify the university's commitment to strength of community," said Gonzalez. "Our new residence halls, which 900 primarily first-year students call home, are indeed part of our campus village."
Other Highlights
Trustees approved the creation of a Public Health Training Graduate Certificate and a Franchise Management Undergraduate Certificate. The Public Health Training Certificate will provide foundational public health knowledge to working professionals who may not be ready to fully commit to a traditional Master of Public Health degree. The Franchise Management Undergraduate Certificate will prepare students to work in franchising, whether that involves becoming a franchisee, working for a franchisee, working for a franchisor or working in the industry.
According to Interim Provost Gerry Bradley, both new certificate programs align with growing market interest in their respective fields and will provide stronger connections between the university and leaders in the public health and business franchise sectors.
The School of Medicine's request to rename the Diabetes & Obesity Center to the Center for Cardiometabolic Science was unanimously approved. "Diabetes and obesity" focus on risk factors and disease; however, the center's members also work on fundamental explanation of cardiovascular/cardiometabolic health. The center's new name encompasses members' interests in both health and disease.
Bradley notified trustees of two program closures. During a program review, the Kentucky Council for Postsecondary Education identified the Bachelor of Arts in art history degree program for closure due to low and declining enrollment, low degree conferrals and low student market demand. The art and design faculty are converting the BA (Bachelor of Arts) in art history to an art history track within the BA in art degree program.
The Graduate Certificate in Logistics and Distribution will also close due to low enrollment with no students enrolling in the program since Fall 2016. Consequently, the industrial engineering faculty will transition the certificate to an interdisciplinary Graduate Certificate in Logistics and Supply Chain Management in partnership with faculty in the College of Business.
UofL's new Center for Engaged Learning (CEL) will celebrate its grand opening Tuesday, Oct. 18, from 11 a.m. to 12 p.m. UofL's newest student resource is located on the first floor of the Belknap Village South residence hall. Paul DeMarco, interim director of the Office of Undergraduate Research and Creative Activity, gave a presentation about the value of engaged learning at UofL. In doing so, he emphasized how the university's many different engaged learning opportunities, such as internships, study abroad programs, co-ops and research assistant programs, illustrate how the student experience goes beyond the classroom. The CEL will work on partnership with UofL's existing engaged learning resources, such as the University Career Centers, Office of Community Engagement, Office of Study Abroad and International Travel, academic programs and several other units to connect students with engaged learning activities.
Jacoby Banet, Madison Cicha and Afi Tagnedji, who all recently participated in the Summer Research Opportunity Program (SROP), were also on hand to share the positive outcomes of their engaged learning experiences.
"The center is an exciting resource that will greatly benefit our students," said Gonzalez. "Students who have had engaged or experiential learning opportunities ask richer questions in class and are prepared after graduation to tackle complex problems in any workplace setting."
The next meeting of the University of Louisville Board of Trustees will take place Friday, Oct. 28, at 1 p.m. in the Jefferson Room, Grawemeyer Hall. Meeting information, committee reports and meeting minutes are available on the Board of Trustees webpage.