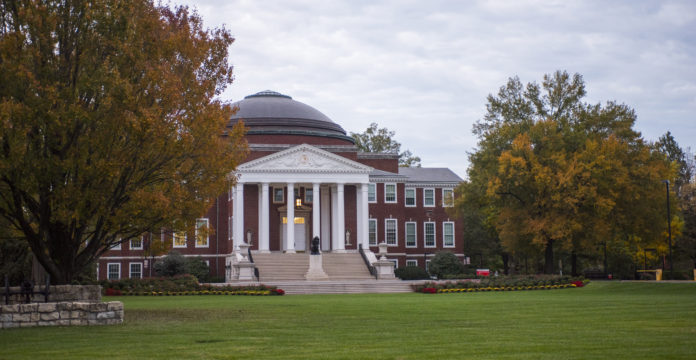 UofL's Staff Senate's meeting May 14 was truncated so senators could attend a celebration thanking interim president Greg Postel for his leadership throughout the past year.
Officer nominations opened the meeting. The election will be held during the June meeting.
To save time, reports were all posted online, including:
Staff Grievance Committee: No grievances filed
John Elliott, interim AVP for HR, said his department has a substantive update that he will defer to the June meeting, including a presentation relative to staff compensation.
Joseph Han, COO, provided some brief updates from his area, including a promulgated emergency operations plan that is now available online. 
A newly formed space committee met for the first time and plans to develop a space policy with a soft deadline of August for the first draft. A strategic technology executive committee has also met to discuss technology priorities throughout campus.
The operations team has also developed a mission statement, and adopted the vision: "Service excellence to which others aspire." Han said the "strategy map" to achieve this vision includes customer focus, data and continuous improvement.
"We're creating clarity and momentum. We've gotten stuck in a couple of areas," he said. "These are all things that go into our 5-year plan. We have to demonstrate that we're operations professionals and we know what we're talking about."
Operations also developed a "house of pain" list that outlines top priority topics for the area. The list, in order, includes HR/unfreezing budget; salary market review; financial reporting; staffing numbers of all departments; outdated policies and procedures; funding model; and process improvement.
The climate survey has been concluded and a team has processed every single comment from the survey. Han said benefits and incentives emerged as employees' biggest concerns, followed by leadership and administration, workforce, morale and communication.
The Campus Environment Team has drafted an action plan to respond to the issues raised in the Campus Climate Survey.  The action plan can be found online under "2017-2018 Campus Climate Action Plan" near the bottom of the page.  The draft has been shared with President Bendapudi and Interim Provost Boehm for discussion and implementation. In follow-up to the action plan, focus groups will be formed to provide opportunities for further discussion and recommendations to improve the campus climate.  More details regarding the focus groups will be provided later this summer. 
The next Staff Senate meeting is June 11 at 2:30 in Chao Auditorium.