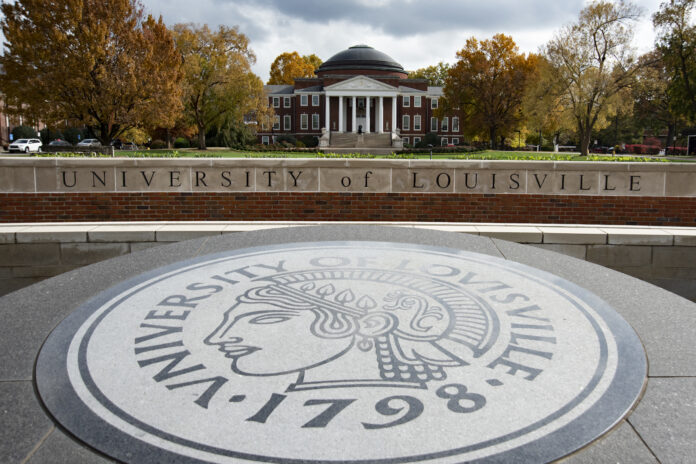 From new employee onboarding, to professional development, to outstanding benefits, UofL's investment in its employees is an investment in its own success. To further build on that success, UofL's 2019-2022 Strategic Plan [PDF] outlines how the university will remain a "Great Place to Work" in the ever-evolving context of a higher education institution.
In February 2021, the university took a significant step in that direction with the opening of the Employee Success Center. The center provides various employee-centered resources and opportunities for personal and professional growth. Coaching circles allow employees to gather and collaborate on significant topics, such as anti-racism initiatives. Well-being retreats and mindfulness initiatives are also offered to cultivate a strong community of care. Award programs, which honor employee achievements and milestones, are also part of the center's many efforts.
From the goals set in the Strategic Plan came seven initiatives to maintain a thriving spirit for UofL employees and ensure the institution is, indeed, a "Great Place to Work." They are outlined below.
Web Improvement
The Web Improvement Project (WIP) is a multi-year initiative aimed at revamping and improving the entire digital presence of the university. The effort marks the first funded, comprehensive web initiative in UofL's history and is the largest concurrent "reset" of UofL websites, systems and platforms.
The project focuses on enhancing the daily lives of students, faculty and staff by modernizing and improving all university web-based experiences, as well as the processes behind developing and maintaining them. This digital overhaul will allow the university to attract new students, foster a stronger relationship with the community and provide staff with opportunities to further develop and implement current technology in their professional capacities.
Metrics and guiding strategies of the project will be routinely re-evaluated and the response with the web realigned accordingly.
Digital Transformation
To prepare the UofL community for engagement in the evolving global market, the university has undertaken a broad array of digital transformation projects designed to provide the digital and mobile on-demand solutions and services required to efficiently work, learn and create, as well as training opportunities for high-demand workforce applications.
The implementation of Microsoft Teams and other Office 365 applications has improved efficiencies in academic and operational services. Every active UofL student, faculty member and employee now have access to the Adobe Creative Cloud at no cost thanks to a university enterprise license. Creative Cloud is an industry standard platform for creating documents, videos, audio, graphic design, photos, illustrations, websites and mobile apps.
UofL's Digital Transformation Center (DTC) provides training for these and other software applications to faculty, staff and students at little to no cost. Many training programs come with badges, certificates or other credentials upon completion.
The Employee Success Center and the DTC announced in March that UofL employees and students have no-cost access to LinkedIn Learning. The platform includes more than 16,000 virtual courses designed to refine and develop technical, business, software and creative skills.
Workday
In order to simplify and enhance the day-to-day lives of employees, the university is transitioning from PeopleSoft human resources software to a newer, more accessible system. Information Technology Services identified the system that would best address employees' needs. After working with various members of the campus community and engaging more than 77 stakeholders across 20 departments for feedback, the Workday software was selected as the best system for the university.
Workday is an industry leader that provides a unified system for Human Capital Management. The implementation of the modern cloud-based system will offer timely and cost-effective functionality to employees while simplifying and standardizing numerous human resources processes across the university. The functionality of the software will improve hiring processes, reduce payroll calculation and processing errors, upgrade security and provide users with a more positive overall HR and payroll experience.
Brand Evolution
At the direction of the Office of the President and in support of the university's Strategic Plan, UofL has refreshed its identity to include the addition of a strategic brand framework and messaging guidelines to complement the existing core brand visual standards.
More than just a logo, colors or tagline, the UofL brand represents the core of who we are — from what it feels like to be a part of the Cardinal Family to the interactions that our faculty and staff have with students, families, fans and supporters.
Throughout the summer and fall of 2021, the Office of Communications and Marketing hosted several workshops to share UofL's new brand positioning and messaging with faculty, staff and students. These sessions also included the rollout of an extensive toolkit for communicators across campus and coincided with the formation of the UofL Brand Council. Comprised of the top-level communicators in each school/college and key administrative units, the council is responsible for developing and managing communications and marketing strategies to improve overall brand awareness, perceptions and engagement.
The official brand rollout to the entire university will take place Friday, Jan. 14, 2022.
Grand Challenges
UofL is dedicated to creating and applying knowledge that improves lives. By harnessing our research and scholarship efforts behind three Grand Challenges of our time, we will find solutions that make a difference and lead to thriving futures here and beyond. The three Grand Challenges, as identified by a president-appointed subcommittee are: 1.) empowering our communities; 2.) advancing our health; and
3.) engineering our future economy.
Throughout the past year, the UofL Office of Research and Innovation has expanded or launched programming aimed at celebrating and supporting researchers and their work in the Grand Challenges. That work is now the focus of the office's research and innovation town hall meetings, where UofL researchers can share their projects and find collaborators.
R&I, in partnership with the UofL College of Arts & Sciences, Office of Diversity and Equity and ATHENA program, also launched a new program called Ascending Stars that provides mentorship, funding and other support to high-performing associate professors who focus on work in diversity, inclusion and empowering our communities.
Other efforts have focused on giving researchers better tools. UofL recently selected a new Electronic Research Administration system called Cayuse, for example, meant to minimize the administrative burden of conducting research and facilitate the growth of UofL research programs.
Cardinal Anti-Racism Agenda
In the summer of 2020, the Office of the President announced a goal for the university to become the "premier anti-racist metropolitan research university in the country." To guide us toward this goal, UofL has launched the Cardinal Anti-Racism Agenda.
While the university has taken many strides toward service to a more racially and socio-economically diverse workforce and student population, it is appropriate as a higher education institution to explore and to grow for the purpose of being a model for the communities we serve.
UofL has already established a few key commitments, including the recruitment and retention of more Black employees and students, building intentionally anti-racism curriculum across all disciplines, ensuring diverse representation on boards and committees, developing budgets that reflect the priority of diversity and equity and more. The Commission on Diversity and Racial Equity (CODRE) in partnership with the Office of Diversity and Equity, leads the charge to engage our community for more potential items to add to the anti-racism agenda.
Additionally, a vice president of diversity and equity will be named in 2022. This position will report directly to the university president, serving as a member of the President's Cabinet, senior leadership team and other key institutional committees.
Total Rewards and Compensation Studies
Finally, the Strategic Plan identified fair and equitable compensation for faculty and staff as a critical aspect of UofL's commitment to being a great place to learn, to work and in which to invest. To honor this commitment, the Office of Human Resources is leading the Compensation and Total Rewards Studies. These studies will assess both employee wages and Total Rewards, which is the total of benefits offered including health care, tuition remission, paid leave and more.
The comprehensive studies are divided into a six-phase approach that will be accomplished over the next 18 to 24 months with assistance from Segal, an outside human resources consulting firm with extensive experience in conducting higher education compensation studies. Findings from the studies will provide the necessary framework for employee salaries and benefits moving forward.