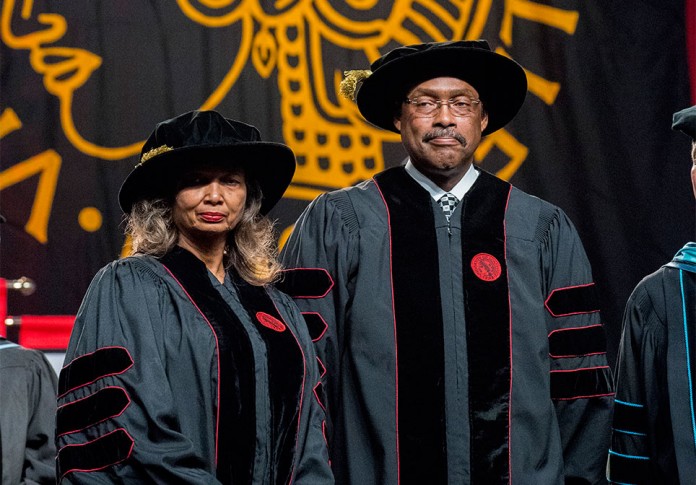 The University of Louisville conferred honorary degrees on Doris and Ulysses "Junior" Bridgeman Jr. during its Dec. 18 winter commencement.
The Bridgemans are UofL graduates and each received a Doctor of Public Service (honoris causa) degree in recognition of their community service and support of the university.
A 1975 graduate of the College of Arts and Sciences, Junior Bridgeman was a member of the university's Board of Trustees from 2000-2007 and board chair from 2003 to 2005. In the 1970s, while earning an undergraduate degree in psychology, he was part of the Cardinal basketball team and went on to play professionally, primarily for the Milwaukee Bucks, after college. He later fueled an interest in business by founding and becoming president and CEO of Louisville-based Manna Inc., a large business with oversight for thousands of employees and hundreds of restaurants that include Wendy's, Chili's and Fazoli's franchises. He has been repeatedly recognized for his business acumen, leadership and service to the community.
Louisville native Doris Bridgeman graduated from the College of Business in 1974 and has helped build the various Bridgeman family businesses. She is a benefactor for the West End School, actively participates in Everyone Reads, and takes part in many faith-based, charitable and community service endeavors.
"There are no finer people than Doris and Junior Bridgeman," said UofL President James Ramsey. "They have combined brilliance and hard work to achieve many personal and professional successes. They care deeply about the University of Louisville and this community. They are advocates for lifelong education and community service. By conferring these honorary degrees, we are recognizing their service to the university and the larger community."