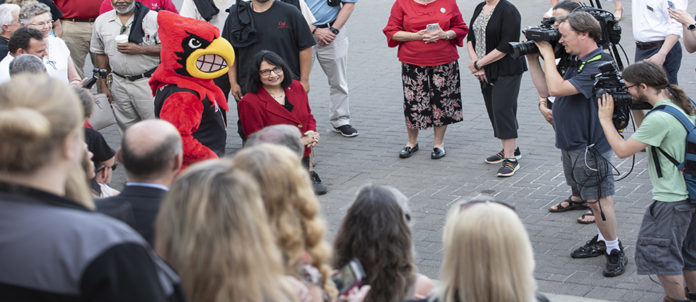 Not long after Tuesday's sunrise, UofL employees and students started gathering on the steps of Grawemeyer Hall in anticipation of Neeli Bendapudi's first day on the job as the institution's 18th president. By the time she pulled into her parking spot shortly before 8 a.m., about 200 people in total were present.
"I don't normally get to work this early. Not even close. But this is just too exciting to miss," said one employee.
Escorted by Louie, Bendapudi made her way through the crowd, stopping to shake as many people's hands as possible while an abundance of local TV crews followed.
"Please, call me Neeli," she said to each employee.
 By the time she arrived at the microphone at the top of Grawemeyer Hall, Bendapudi seemed genuinely surprised by the turnout.
"It gives me goosebumps," she said.
Bendapudi offered a few remarks before making her way to her new office:
"There's no other place I'd rather be than here today. Let's not forget why we're here: We're here for the students – to make sure we create the best place for them to learn and thrive and go on and solve problems that we can't even imagine today.
"I commit to you, to all of the faculty and staff – whether you're in the classroom, taking care of the grounds, whether you're making sure the heating and cooling works – I commit to you we'll try our best to make it a great place to work for you.
"And for all of you from the community: the fact that we have so much media presence here today speaks to the interest – the love – that the community has for the university and how much they want the town-gown partnership to be strong, to be sustainable, and to be something that lifts everybody. So, to all of you in the community, I give you my word that we will all work together to make sure you see us as a great place to invest your trust, your support, your guidance.
"In order to do those three things – a great place to learn, work, invest – we need to be a place that says 'you're a partner, you are here, you belong as much as anybody else does.' We have to be a place that celebrates diversity, fosters equity and achieves inclusion for everybody.
"We have work to do … Our best days are ahead." 
Read more about Neeli Bendapudi here and here. Check out pictures from this morning's welcome event here.