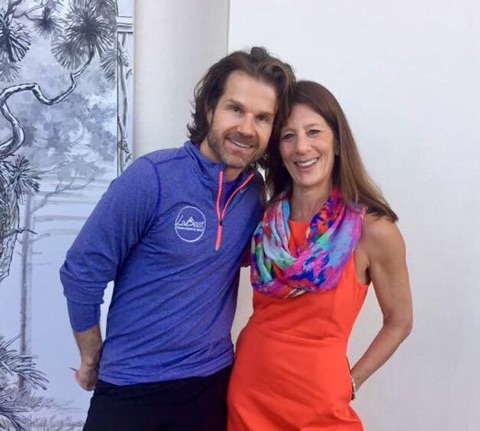 Few professional dancers in the world have resumes as robust as Louis Van Amstel's. In 1996, the Dutch native won the World Championships with his partner Julie Fryer. He has also produced dance shows on Broadway and beyond, was an original dancer on ABC's "Dancing With the Stars," and has even created his own dance-centric fitness program, LaBlast.
On April 14, Van Amstel will bring that fitness program to UofL. Get Healthy Now will host two LaBlast classes taught by the Dancing with the Stars world champion. Offerings include LaBlast Fitness, April 14 from 9-10 a.m., and LaBlast Line Dance, April 14 from 6-7 p.m. Both will be held at the GHN Wellness Center, 601 Presidents Blvd. Cost per class is $10, $15 or $20, depending on when tickets are purchased.
For the Early Bird pricing of $10, tickets need to be purchased by March 31.
LaBlast is a described as a multi-level dance fitness program designed for the absolute beginner to the already experienced dancer. While enjoying dances like the Disco, Cha Cha, Jive, Samba, Paso Doble, Merengue, Salsa, etc., over time students progress at their own rate.
"We teach the true skill of dance, to modern music, based on all of the dances you see on 'Dancing with the Stars.' It's an excellent way to get your heart rate up, working out your physical body, and work out your emotional-self, by connecting with yourself,"  Van Amstel said.
His visit to UofL was facilitated by Paula Kommor, senior wellness specialist. She met Van Amstel during the Building Healthy Academic Communities Conference in Florida in 2017 and was "more than impressed."
"Seeing him in action was the highlight of the conference for me. I appreciate his approach, which is similar to the wellness coaching approach that we teach at UofL. Our goal is to get our clients out of their thinking (self-talk) brain into their feeling brain and tap into their heart and their values," Kommor said.
Kommor connected to Van Amstel and followed up after the conference. At the time, he had rolled out the LaBlast program at Ohio State University, which turned out to be a serendipitous connection.
"Patricia Benson, our AVP of Health, Wellness and Disease Management, has a strong partnership with Ohio State and therefore Louis was thrilled to come to UofL," Kommor said.
This isn't the first time GHN has hosted a dancer of this magnitude, however. Ten years ago, UofL hosted Beto Perez, the creator of Zumba Fitness, at Papa John's Stadium. That year marked the beginning of the Zumba Fitness trend in the U.S. and there were maybe eight instructors in Louisville. Kommor says there are now more than 500 in the city. 
She believes LaBlast is on a similar trajectory. 
"I am personally excited about Louis' approach to teaching dance. It is powerful and he can motivate anyone – even if you think you have two left feet – to get up and move. He can help them get out of their thoughts and begin by standing up and merely feeling and clapping to the different rhythms," Kommor said.
Van Amstel's appearance at UofL will mark the first time he has hosted a master class in the state of Kentucky.
LaBlast offerings at UofL
To get more of an idea of what to expect from LaBlast, the program's taglines are:  
"Dance like a star and workout in disguise."
"If you can clap it, you can dance it."
For the 9 a.m. class, LaBlast Fitness, participants can expect an energizing dance fitness class that blends the true skill of ballroom dance with calorie-blasting properties of interval fitness. Carefully-curated music playlists from all eras and genres keep participants engaged and entertaining while learning the Tango, Rumba, Quickstep and more. It is partner free and high energy. Go online here to register for this class. 
For the 6 p.m. class, LaBlast Line Dancing, participants can expect a new approach to traditional line dancing through the easy-to-learn Disco, Foxtrot, Samba, Paso Doble and more. All dances are partner free and can be done anywhere. Register for this class online here. 
For additional information, contact Paula Kommor via email.