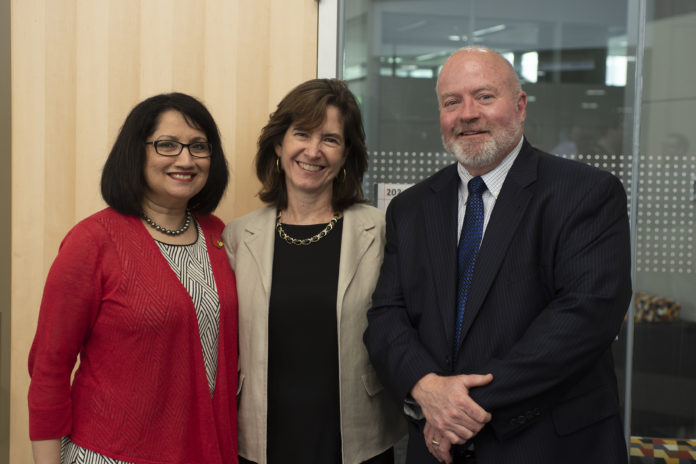 The University of Louisville and its community college partners have announced a major milestone – 1,000 reverse degrees have been awarded since fall 2013.
Those partners include the Jefferson Community and Technical College, Elizabethtown Community and Technical College, Owensboro Community and Technical College and Ivy Tech Community College.
The announcement was made Wednesday by UofL President Neeli Bendapudi, who was joined by JCTC CEO Ty Handy and Mary Gwen Wheeler, executive director of 55,000 Degrees, a Louisville organization that works to improve education attainment.
A reverse degree is an associate's degree or a certificate that's awarded by community colleges to their former students who have transferred to UofL and earned at least 60 total credits, including a minimum of 15 from the community college.
"This is simply a matter of giving credit where credit is due. These reverse degrees recognize the hard work students are already doing. We're just giving them what they've already earned," Bendapudi said. "This program is the perfect example of the university and community college partners working together to increase the number of people with secondary degrees." 
Bendapudi notes that UofL's is the first formal reverse degree program in the state.
Former JCTC students have been the most frequent beneficiaries of UofL's program with 777 of them having received more than 1,000 reverse degrees in the past six years.
"We all know somebody where life got in the way and it took them longer to complete their bachelor's degree than you would expect them to," Handy said. "Most of us tend to think of college as a four year experience – you're in, you're out, you're on with life – and that is just not the pattern people follow anymore, especially in urban markets like Louisville. This partnership is critical to us because many of these students take longer to finish their degree and that credential gives them an opportunity for better work."
Indeed, Wheeler said more than 65% of local jobs now require training beyond high school. However, only 43% of people in the community have those credentials.
The reverse degree program tends to motivate students to finish their degrees. The latest data on reverse degree recipients shows that 85% of students are retained at UofL, and 62% of participants who received a reverse degree have graduated with a bachelor's degree from UofL.
"Increasing those opportunities is important, not just for the community but also because it correlates with a better quality of life," she said.
Wheeler also points to this program as one of the reasons the city of Louisville has been recognized as an innovation hub. 
"We want seamless pathways for students in Louisville to be able to complete their bachelor's degree," Handy said.
More from the press conference is available below: