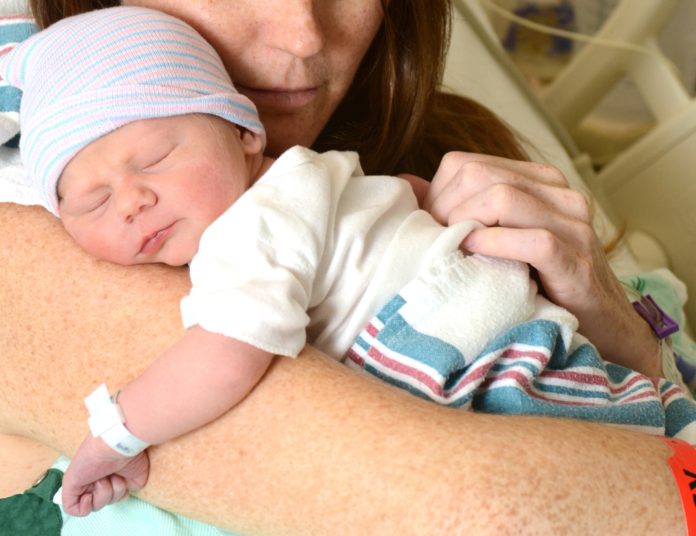 The University of Louisville Center for Women & Infants at UofL Hospital has been named a Baby-Friendly Designated birthing facility by Baby-Friendly USA. The designation is awarded to birthing centers that offer an optimal level of care for infant feeding and mother/baby bonding.
Baby-Friendly USA implements the Baby-Friendly Hospital Initiative in the United States. BFHI is a global program sponsored by the World Health Organization and the United Nations Children's Fund.
The UofL Center for Women & Infants is the only Downtown Louisville facility and the fourth facility in Kentucky to earn the designation. Currently there are 405 active Baby-Friendly hospitals and birthing centers in the United States and more than 20,000 worldwide.
The designation is awarded to birthing centers that follow the Ten Steps to Successful Breastfeeding, offering breastfeeding mothers the information, confidence, and skills needed to successfully initiate and continue breastfeeding their babies. The Baby-Friendly designation is given after a rigorous on-site survey is completed and is maintained by continuing to practice the Ten Steps.
"The process to earn Baby-Friendly Designation truly involved a team effort," said Libby Smith, RN, nursing director of the CWI. "The staff, providers and leaders throughout the CWI work together for the common goal. Providers support breastfeeding from the beginning of the patient's prenatal care through delivery, and then while mom and baby are in the hospital. The pediatric providers support mom and baby throughout their care, also.
"The greatest congratulations are for the nurses and the lactation team who provide the support for the family. There is a lot of education that takes place in the CWI, and a lot of support when mom is tired and just wants to give up; everyone encourages her to keep going. The Baby-Friendly Designation has been awarded because our staff works hard to make mothers and babies their priority."
The CWI is home to Labor & Delivery, High-risk Antepartum Units, Mother/Baby Unit and the Level III Neonatal Intensive Care Units. In addition to the highest quality physician-provided obstetrical, newborn and neonatal care for mother and baby, the CWI has implemented innovative services including care provided by Certified Nurse Midwives, family centered Cesarean sections, tub labor and centering pregnancy.