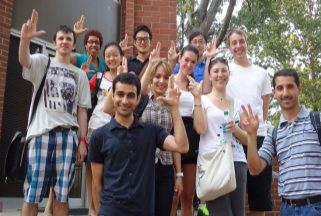 During the 2016-17 academic year, 859 UofL students studied abroad in 50 different countries. China, Spain, The Philippines, Costa Rica, and Italy were the most popular destinations.
In the Fall of 2016, there were a total of 1,033 student scholars on campus, including 244 from China and 173 from India.
During the week of Nov. 13-17, the university will celebrate International Education Week, recognizing the benefits of international education and exchange.
The joint initiative between the U.S. Department of State and the U.S. Department of Education functions to "promote programs that prepare Americans for a global environment and attract future leaders from abroad to study, learn and exchange experiences in the U.S." IEW was first held in 2000 and is now celebrated in more than 100 countries.
To mark the occasion, UofL will host a number of events, from a salsa night to a workshop to a Thanksgiving dinner. The full schedule is below:
From Nov. 13-17, the International Center Exhibit will be displayed at Ekstrom Library, east side. It includes the history of the center.
On Monday from 2-3 p.m., a Q&A session will be held to answer travel questions, hosted by the International Student and Scholar Services. It will include dessert, coffee, hot chocolate and raffle prizes.
On Tuesday from 12:30-2:30 p.m., the International Luncheon will be held on the Health Sciences Campus, CTR Building, Room 124. This event is co-sponsored by the Office of Graduate and Postdoctoral Studies and the ISSS.
On Wednesday from 3-5 p.m., an Immigration Workshop covering current trends and outcomes will be held on Shumaker, Room 139. It is co-sponsored by J. Gregory Clare Law Offices and ISSS.
On Thursday from noon to 1 p.m., the International Luncheon will be held in Bigelow Hall, Room 1316. This event is co-sponsored by the Dean of Students Office and the ISSS.
Also Thursday, Salsa Night will be held at the Red Barn from 6-9 p.m. This event is hosted by the American International Relations Club.
Finally, on Friday from 6:30-9:30 p.m., a Thanksgiving Dinner will be held at the Red Barn, hosted by the Organization Assisting and Serving International Students.
All events are free and open to students, faculty and staff.
According to NAFSA: Association of International Educators, international students and their dependents contributed $36.9 billion go the U.S. economy during the 2016-17 academic year. 
For more information about International Education Week, visit the IEW website. 
Also, save the date for the International Center's Get Connected and Resource Fair, January 4 at noon at the Red Barn.